A festive end to the academic year
May 10, 2023
Throughout the academic year, Skidmore students think creatively about how they can affect change, expand knowledge, and connect different ideas and perspectives across disciplines. Skidmore's Academic Festival, held each spring, offers an opportunity for Skidmore students to share the results of the rigorous research and creative endeavors that they pursued throughout the academic year. The annual festival, which immediately follows the end of classes, includes remarkable work from the sciences, social sciences, arts, humanities, and other disciplines.
Below is a sample of the many student projects that went on display during this year's Academic Festival in early May. Together, they present a window into Skidmore students' wide-ranging academic interests, creative endeavors, and dedication that they pursued with their minds and their hearts.
Tori Adams '24 talks about their work on display at the Schick Art Gallery.
The environment
"Why Not Wind? A Feasibility Study of Wind Power for Skidmore College" (Dylan Catian '23 and Tess Vermylen '23)
"The Controversy of Mining for a Sustainable Future: Unearthing the Urgency for a Domestic Lithium Supply" (Avery Blake '23, Jeremy Budner '23, May Sun '23, Jenna Wilhelm '23, and Oliver Wilson '23)
Media and the arts
"The Climate Crisis through Contemporary Mexican Documentaries" (Chloe Faendrich '23)
Public policy
"Medicaid, Social Citizenship, and Democracy in Rural Upstate New York" (Lindsay Dry '23)
"Contested Borders in International Politics" (Michael DeCarlen-Bumiller '23, Rory Millar '23, and Hunter Wasser '23)
"How Do Disabilities Effect Wage and Salary Income Amongst Female Workers?" (Nick Massaro '23)
"Thieves Around the Stadium: Comparing the Spatial Effects of Football and Soccer on Crime" (Jeremy Budner '24)
Cole Darby '23, left, makes dishes for his presentation, "Culina Romana: Ancient Roman Food and Dining."
The economy
"Examining Interest Rates: Does the Federal Reserve Affect Returns of Bitcoin?" (Mohamed Almheiri '23)
"Intersectional Identity and Job Attribute Preferences" (Nya Keith '23)
"Is Gold a Hedge, Safe-Haven, or Diversifier Asset during the COVID-19 Pandemic? An analysis of Stock and Gold Marketings in the U.S., U.K., and China." (Ruilin Guo '24)
"The effect of Net Zero Announcements on Publicly Traded Firms" (Finnian O'Malia '23)
An audience listens to a student presentation in the Schick Art Gallery.
Health, fitness, and the human body
"Investigating the effects of visual feedback on muscle activity, heart rate, RPE, and qualitative performance in classically trained ballet dancers" (Lilah DuBoff '23)
"Cigarette Smoking and Depression: Examining the Relationship Between Cigarette Smoking and Depression among Asian American Adults" (Connor Aitken '23)
"Meows to music: The effect of acoustic manipulations on the speech-to-song illusion" (Olivia Ripley '23)
"Differential regulation of Drosophila (fruit fly) sleep by blue, green, and red light" (Samuel Bon '23)
"Development of Cannabis Extract Protocol for use in Studies on Zebrafish Nervous System Development." (Libby Danielson '23, Sophie Gilbert '23, Grace Picarillo '23, and John Tagariello '22)
"Changes in Firefighter Cardiorespiratory Fitness Following COVID-19" (Alex Frost '23 and Chantel Thongphock '23)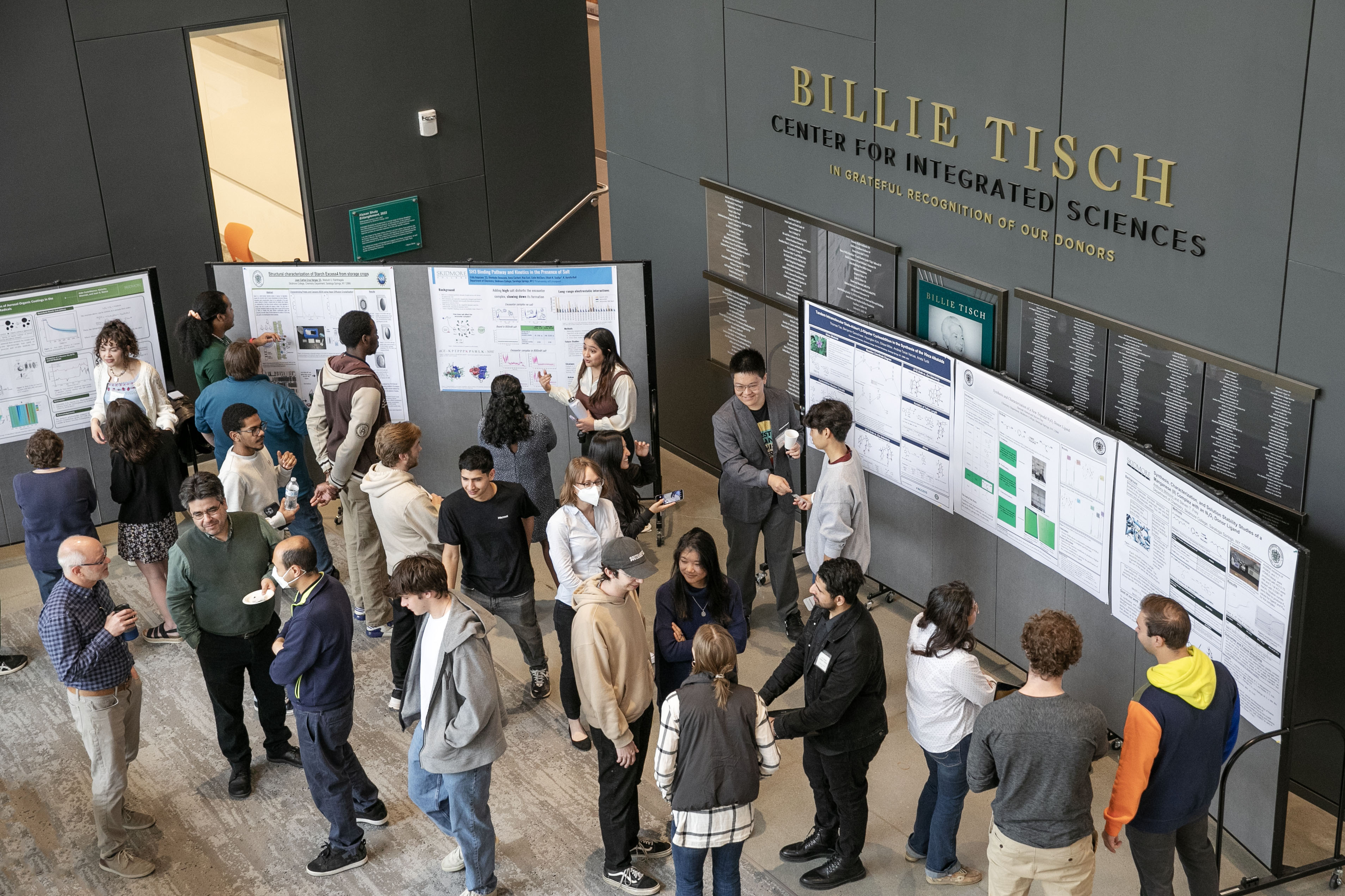 Chemistry students discuss their posters in the Billie Tisch Center for Integrated Sciences.
History and culture
"Culina Romana: Ancient Roman Food and Dining" (Cole Darby '23)
"Woven Together: Women Creating Stories Through Textiles" (James Eason '23)
"Disrupting (White) Space: Counter Stories of (Black) Joy & Resilience at Skidmore College (Raven Jade Villa '23)
Data science, math, and statistics
"Turning Off the Lights: 99 Hours of Mathematical Modeling"
(Chase Demick '26 and Molly Wang '26)
"Finalizing the Application List: Building Master's Program Recommendation Engines" (Quinn Stoddard-O'Neill '23)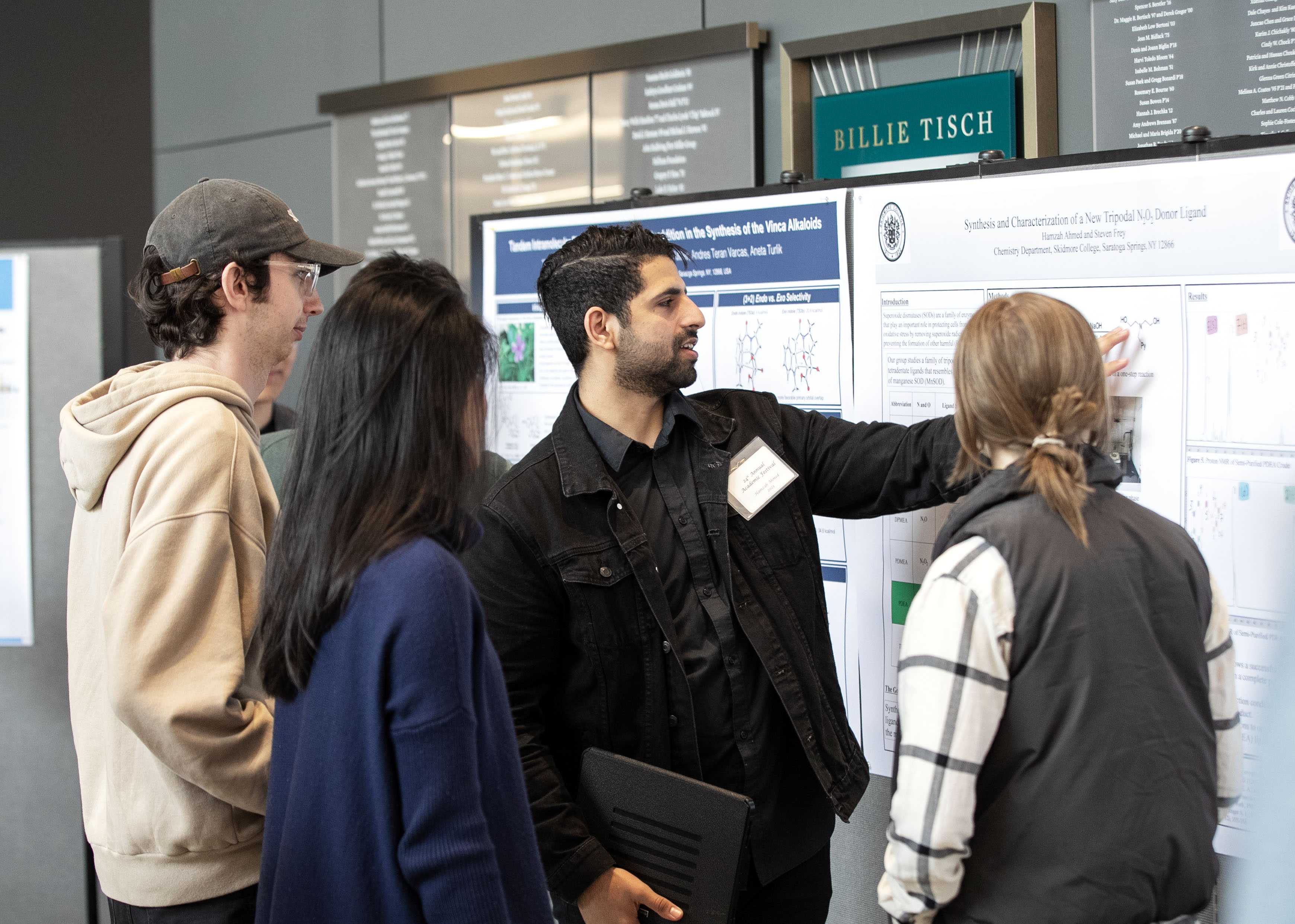 Hamzah Ahmed '23 explains a chemistry project during Academic Festival.
Creative writing
"Running Against the Wind: Disabled Masculinity and the Vicious Cycle of Sport" (Aymon Langlois '23)
Music/performance
"Making Roots and Banjos: Organizing and Executing a Lecture Recital" (Sabrina Alper '23)
"Writing to Rule: Using Western Tonal Theory and Music Perception as Compositional Constraints" (Olive Ripley '23)
---
For a full list of research projects presented, please view the Academic Festival Program.