The Racial Justice Initiative
President Marc C. Conner announces the launch of the Racial Justice Initiative, a year-long series of projects that seek to address the realities of racial injustice locally, nationally and globally.
Diversity in the News
---
Associate Professor of Psychology Erica Hsiung Wojcik is using crossword puzzles to build a more inclusive society.

Skidmore's dedicated space for prioritizing diversity, equity, inclusion, and justice has been named in recognition of the leadership and support of parents Alicia and Bob Wyckoff.
Diversity Events
---
Case Center TableCaseWalkway #1: Visit the OffCampus Study & Exchanges information table on Case walkway. This table is hosted by a student that has already studied abroad and can share what it is…
Off-Campus Study & Exchanges
Go to Off-Campus Study and Exchanges
---
Student Clubs and Organizations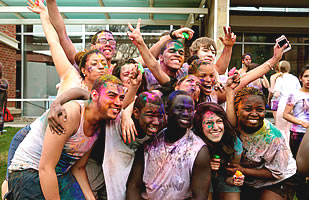 Go to Student Clubs and Organizations
---
Student Diversity Programs
Go to Student Diversity Programs
---
Intergroup Relations
---