Announcements and Updates
Residence Hall Room Selection
For students in the Classes of 2020, 2021, and 2022 Residence Hall Room Selection will be occuring April 22 - April 26! Students will receive their selection time via their Skidmore Email. Please visit our site to learn more.
Move-In Volunteers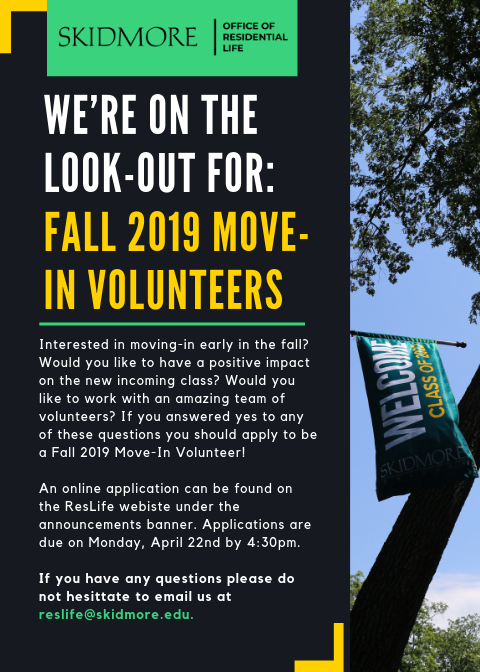 Class of 2023 - Admitted Students
Congratulations to the newly admitted students in the Class of 2023, and welcome to Skidmore College! Many students have been curious about their housing for the upcoming year. Students in the Class of 2023 will receive information about housing in early June and will have the opportunity to complete a Housing Questionnaire!
Read more about our Residence Halls
Apartment Party Registration
Students residing in the apartments may register events to be held in their apartments on Friday or Saturday evenings via the Apartment Party Request Form. The Apartment Party Request Form can be found here.
Apartment Party Registration is available Monday-Thursday, closing at 12:00 pm on Thursday and is open only to students who have completed a Party Registration Workshop.
Helpful Links
Partner Offices