John Chowning, computer sound expert, to lecture Feb. 22
February 17, 2015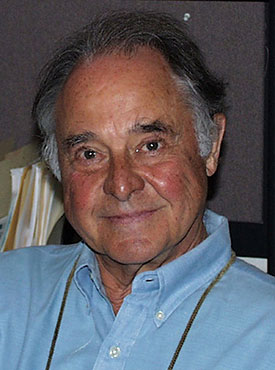 John Chowning
Computer sound synthesis expert John Chowning will present a concert/lecture titled "Sound Synthesis and Perception: Composing from the Inside Out (and a bit of history)," starting at 3 p.m. Sunday, Feb. 22, in the Arthur Zankel Music Center.
He will explain the major advances in computer music over the past 50 years while also presenting his latest musical compositions in surround sound. Maureen Chowning will assist. Tickets are $8 general admission, $5 for seniors, and free for students. To reserve a ticket please visit the Zankel Music Center web site.
When the first successful commercial digital synthesizer, the Yamaha DX7, hit the music scene in 1983, it changed the course of music history. That highly successful synthesizer was the result of an amazing discovery by a young Stanford University faculty member, John Chowning, whose musical ear led to a discovery that would revolutionize the world of music. He discovered and patented Frequency Modulation Synthesis (FM Synthesis), which overcame computer limitations of the day and became a standard in every modern synthesizer. It revolutionized the field of computer music in the late 1970s and early 1980s.
Skidmore's Anthony Holland meets JohnChowning in 1989. Holland was on
sabbatical and working at the Stanford
CCRMA.
Considered by many to be a living legend in the field of digital sound synthesis and composition, Chowning is the founding director of Stanford's Center for Computer Research in Music and Acoustics (CCRMA), one of the most important centers for computer sound synthesis, analysis and research for over two decades.
Chowning's great generosity to composers around the world was sharing the CCRMA facilities.This resulted in an explosion of computer synthesized music composition and sound research that formed a vast international body of artistic and scientific work, which became the basis for an entirely new way to compose and create musical sounds.