Skidmore Spotlight: Jessica Lubniewski
May 1, 2019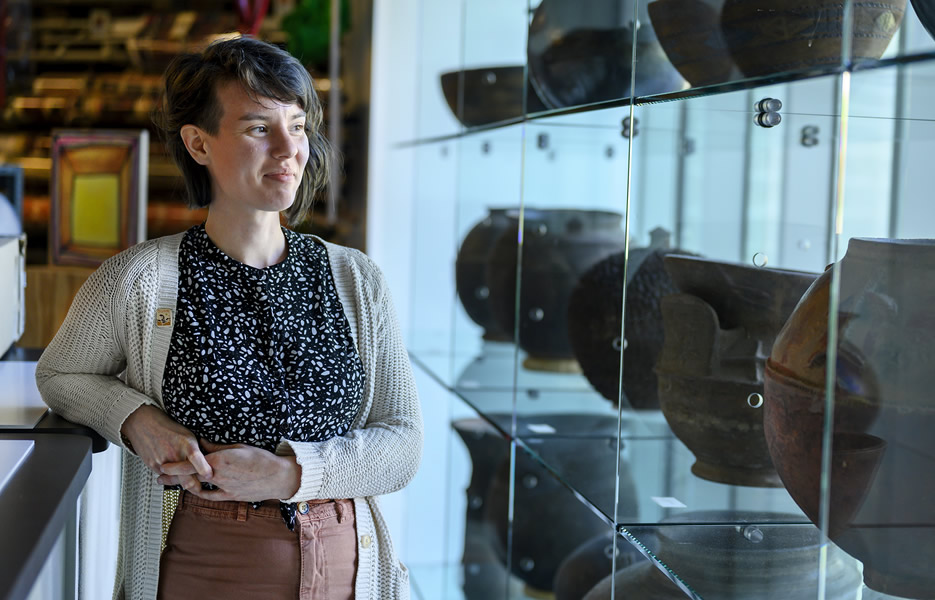 Jessica Lubniewski '06 works as the collections registrar at the Tang Teaching Museum and is responsible for the safety, location and use of the museum's collection of over 15,000 objects.
Her primary role is to provide faculty, students and community members with access to the collection.
"I help faculty who want to use objects in their teaching by providing them with lists of objects from our collection that might suit their curricula. This can be as simple as showing paintings from our collection to a painting class, or as complicated as coming up with objects in our collection that might relate to topics such as geology or algorithms or classical mythology," she said.
Lubniewski joined the Skidmore staff in August 2014. While working on her master's thesis in California, she had heard many times that the Tang was at the top of its field in collections access and use.
"I became enamored with the idea of working at the Tang and set it as a goal for much later in my life, but only two years after finishing grad school a job became available at the Tang that was perfect for my skill set and interests in the museum field," she said.
Lubniewski says she loves driving along the campus's loop road when the trees are turning in the fall, and she is a huge fan of Dining Services' pistachio and chocolate chip biscotti. One of her favorite possessions is a piece of a pink exterior wall from the former Moore Hall that she obtained through a fundraising campaign.
When she is not on campus, she enjoys fiber arts, reading sci-fi, comics and some fantasy, and hiking, canoeing and swimming in the summer. This past winter, she joined a recreational ice hockey team with a group of other women from Skidmore.