Faculty-Staff Achievements
March 4, 2020


Sarah Friedland, director of the Storytellers' Institute, and Adam Tinkle, assistant professor and director of MDOCS, worked to secure a $25,000 grant from the Ford Foundation that will allow for more artists in residence during the 2020 Storytellers' Institute and Forum.


Bill Jones, senior athletic communications manager, is the recipient of the 2020 Lester Jordan Award, presented by the College Sports Information Directors of America (CoSIDA) for exemplary service to the CoSIDA Academic All-America Program and promotion of the ideals of being a student-athlete.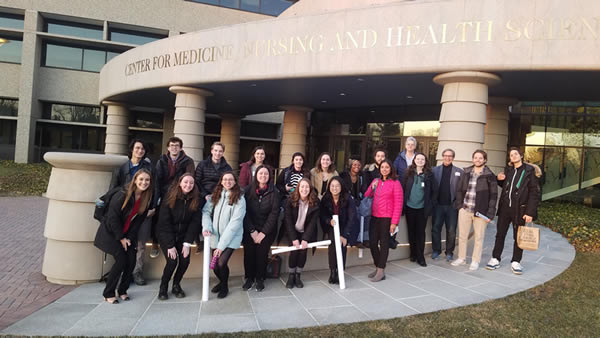 Sarita Lagalwar, associate professor of neuroscience, Denise McQuade, senior instructor of biology, Lucy Oremland, assistant professor of math and statistics, and Bernie Possidente, professor of biology, and 18 students attended the Northeast Undergraduate Research on Neuroscience (N.E.U.R.O.N.) conference at Quinnipiac University Medical School on Feb. 23. They presented 10 research posters co-authored by 20 students.

Aarathi Prasad, assistant professor of computer science, presented the research paper "Analyzing Privacy Practices of Existing mHealth Apps" at the International Conference on Health Informatics in Valetta, Malta. She co-authored the research paper with Skidmore students Matthew Clark '21, Ha Linh Nguyen '22, Ruben Ruiz '21 and Emily Xiao '21.


Pushkala Prasad, Zankel Chair in Management for Liberal Arts Students, presented a paper, "Carried and Delivered: Racialized Gestational Labor and New Contours of Precarity," at the Annual Meetings of the Eastern Sociological Society in Philadelphia on Feb. 29.

Dwane Sterling, chief technology officer, was named a 40 Under 40 honoree by Albany Business Review.

Murat C. Yildiz, assistant professor of history, reflected on a conversation he had with his 5-year-old son Sami about the recent attacks in Germany in a piece published in Jadaliyya.


We welcome submissions from faculty and staff related to professional accomplishments and scholarly endeavors. Please send submissions to the Office of Communications and Marketing.