Skidmore Spotlight: Michael Vance
February 10, 2021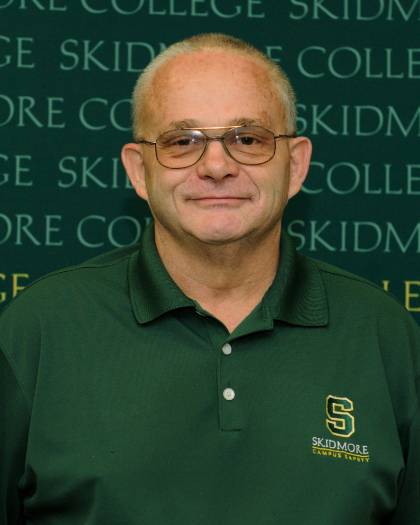 Michael Vance is a Campus Safety officer and emergency medical technician. Vance recently stepped in to fill a critical role by providing essential services on the overnight shift.
Campus Safety officers serve the College in many important ways, from conducting safety patrols and responding to emergency calls to unlocking doors and providing first-aid training.
"Sometimes we are just someone to come to for information, compassion or directions," said Vance, who joined the College in 2005.
The overnight role is particularly important, said Timothy Munro, director of Campus Safety.
"Officers like Mike are critical to our success. Campus Safety is the only office open and available to receive incoming calls 24/7. They receive calls for Facilities, Residential Life, Health Services and Counseling all hours of the day and night," Munro said. "On the overnight shift in particular, we often rely on Campus Safety to perform a variety of duties because there is limited staff on campus."
During the pandemic, Campus Safety officers like Vance have also pivoted to support students in quarantine or isolation, enforce COVID-19 rules and provide other services.
"Although there have been challenging times with everyone so anxious about the pandemic, I have always valued Skidmore's compassion to help others," he said.
Vance demonstrates compassion off campus as well, by volunteering for the South Glens Falls High School Marathon Dance, volunteer fire departments, emergency medical services and other organizations.
He also enjoys spending time with family, camping, walking in the woods and watching historical documentaries.
---
Would you like to nominate an employee who is contributing to the College's efforts against COVID-19 for recognition? Email us at swb@skidmore.edu.