Skidmore Spotlight: DJ Walker
March 17, 2021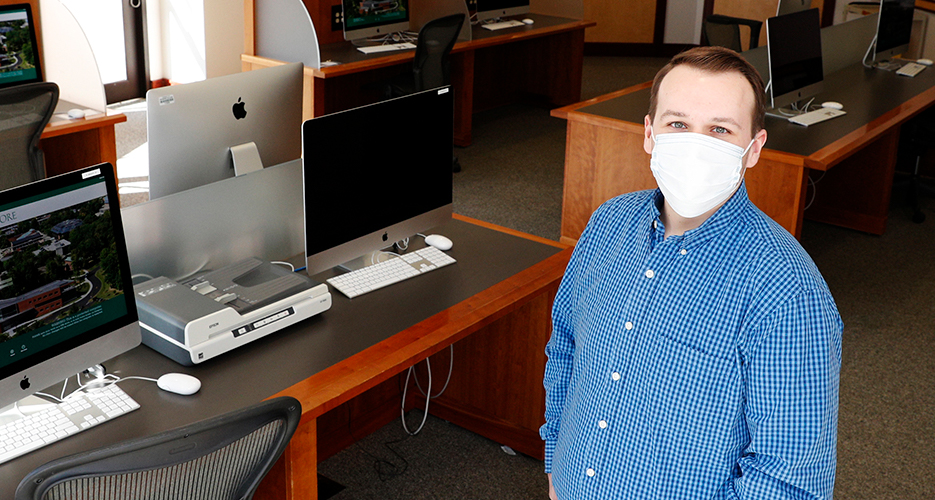 DJ Walker, assistant director of Media Services, supervises the work of a Media Services team that maintains audiovisual systems in more than 100 classrooms, auditoriums, athletics facilities, and many other meeting and study spaces operated by Skidmore on and off campus.
The Media Services team also provides audiovisual and IT support for campus events, oversees the Mac lab on the ground floor of Scribner Library, and checks out cameras and other documentary equipment to faculty, staff and students.
Walker, who started at Skidmore in early 2018 as a Media Services technician, assumed his position last June. He and his team have quickly pivoted to support virtual events, such as Zoom meetings and webinars.
"My responsibilities have changed rather drastically during the pandemic. Being a new manager during this time has been challenging, but also extremely educational," he said. "Luckily, I have a great team around me and a lot of support from colleagues."
Chief Technology Officer Dwane Sterling noted Walker had stepped into a very challenging role and was also working with a smaller team. "DJ has filled the gap with his own hard work, ensuring that faculty, staff and students have had continuing access to the classroom technology, audiovisual equipment and media support they've needed throughout this pandemic," Sterling said.
Walker said he enjoys working at Skidmore and especially values its inclusivity and sense of community.
When he is not on campus, Walker enjoys time outdoors and is an avid fisherman, kayaker, backpacker and camper. He also loves science fiction movies and reading.
---
Would you like to nominate an employee who is contributing to the College's efforts against COVID-19 for recognition? Email us at swb@skidmore.edu.