Skidmore Spotlight: Jessica Turner
March 31, 2021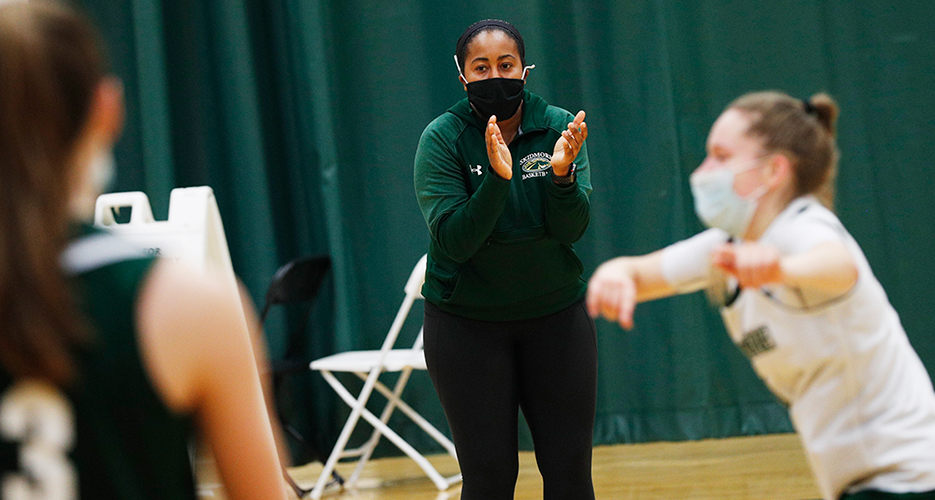 Jessica Turner just completed her third season as Skidmore women's basketball coach. As coach, her responsibilities include coaching a competitive women's basketball program with oversight of all aspects of the program, including implementing player development, planning practices, scheduling games, organizing team travel, developing strategies for games and conducting fiscal planning.
She also teaches two physical activity classes at Skidmore and supports game-day management for both fall and spring sports.
"A big part of my job is the recruitment of prospective student-athletes. Due to the pandemic, I've had to become extremely creative in how I approach recruiting players and evaluating talent," she said. "I am definitely more Zoom savvy than I was in the past!"
Before coming to Skidmore, Turner was familiar with the College from her time as a player at Castleton University, which competes against Skidmore each year.
"As both a player and a coach, I was always impressed with the beauty of Skidmore's campus, and aware of its reputation of excellence in academics and athletics, which is what ultimately drew me here," she said. "I really enjoy the community feel at Skidmore, and also enjoy grabbing lunch at The Spa."
She also appreciates Skidmore traditions like the Big Green Scream. When she is not on campus, she enjoys spending time with family.
---
Would you like to nominate an employee who is contributing to the College's efforts against COVID-19 for recognition? Email us at swb@skidmore.edu.