Voice Lessons
Vocal Instructors:
In vocal lessons, we develop the voice, musical, and interpretive skills, primarily through the study of classical vocal music. Each lesson focuses on vocal technique and repertoire. Functional concepts are introduced, refined, and reinforced to help you sing healthfully and efficiently. Interpretive and stylistic concepts are explored to enhance your musicality and performance skills.

Singers enrolled in voice lessons benefit from many performance opportunities that range from intimate private studio classes, to public masterclasses with guest artists, to vocal competitions on a national level. Many students participate annually in the Eastern New York Chapter of the National Association of Teachers of Singing (ENY NATS) annual Art Song Festival. This festival also includes the District level competition of the NATS National Student Auditions. Previous Skidmore students have places and participated in district, regional and national levels of the competition.
Master classes
Master classes with guest singers occur each semester. Students have had the opportunity to perform on master classes with many distinguished professional singers. Some of these have included:
Victoria Sofia Botero
Rebecca Folsom (Boston Conservatory)
Daniel Bubeck (professional countertenor and early music specialist)
Christin-Marie Hill
Sharon O'Connell Campbell (University of Nebraska)
Anne Jennifer Nash (Concordia College)
Toshi Reagon (recording artist, McCormack resident)


Audition information
Prior to receiving instructor permission for voice lessons, you will need to audition. Auditions will be held during the first week of the semester. Please contact Sylvia Stoner-Hawkins to schedule an audition.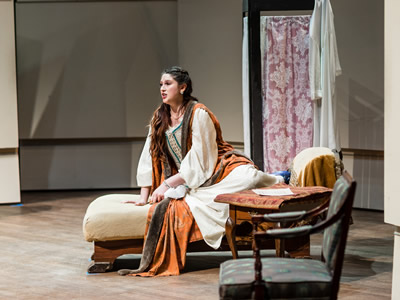 Audition Details
Please complete the audition form, linked here.
Please prepare one classical song (or legitimate musical theater tune) from memory. Be ready to sing this in your audition with piano accompaniment. Be sure to bring a clean copy with any necessary musical markings for your accompanist.
Following the audition, we will assess your musical skills. You will be asked to sightread simple melodies and rhythms, and you will also be asked to play a simple melody on the piano.
Students will be informed regarding studio placement, or placement in "Class Study of Voice" or "Rudiments of Music," by email no later than the day after your audition.
If accepted into a studio, your voice teacher will contact you to set up your lesson time.