Alumnus Joel Quadracci to present Harder Lecture
February 23, 2011
Alumnus Joel Quadracci to present Harder Lecture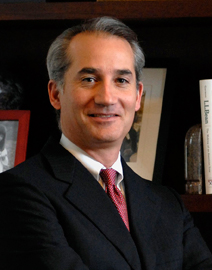 J. Joel Quadracci '91
J. Joel Quadracci, chairman, president, and CEO of Quad/Graphics, will discuss "Transforming a Company in a Complicated World" when he delivers the 27th annual F. William Harder Endowed Lecture at Skidmore College. Free and open to the public, the lecture is scheduled at 5:15 p.m. Wednesday, March 2, in Gannett Auditorium of Palamountain Hall. A reception will follow.
Joel Quadracci is responsible for guiding the overall strategic growth and success of Quad/Graphics, continuing the tradition of Quadracci family leadership at the company founded in 1971 by his father, the late Harry V. Quadracci.
Joel grew up with Quad/Graphics, watching it develop from a fledgling operation into a leading printer of catalogs, magazines, and other commercial products.
He officially joined Quad/Graphics in 1991, the year he earned a B.A. degree in philosophy at Skidmore College. After completing the company's corporate training program, he focused on sales and became a sales manager in 1995, manager of the New York City sales office in 1997, and a regional sales strategy director in 1998. Joel was named vice president of print sales in 1999 and senior vice president of sales and administration in 2003. In January 2005 he was named president and COO, and became president and CEO in July 2006. Joel was named chairman, president, and CEO in January 2010.
A member of the Quad/Graphics board of directors since December 2003, Joel also serves on the board of the Children's Hospital and Health System, Wisconsin Manufacturers and Commerce Trade Association, and the Amazon Center for Environmental Education and Research. In addition, he is on the board of directors of the Direct Marketing Association (DMA), where he chairs the Committee on Government Affairs. Through the DMA, he is also involved with the Mail Moves America coalition, a long-term effort to address "Do Not Mail" legislation and keep the mail channel open.
Joel is a member of the Greater Milwaukee Committee, a private-sector civic organization whose mission is to contribute to the cultural and economic base of the Milwaukee metropolitan area; the Milwaukee 7, a regional economic development initiative; the Sustainable Water Supply Coalition, an alliance of businesses and organizations dedicated to advancing sustainable water use initiatives in southeastern Wisconsin; the Committee on Corporate Philanthropy, an international forum of business CEOs and chairs focused exclusively on corporate philanthropy; and The Wall Street Journal CEO Council.
Skidmore's annual F. William Harder Lecture was inaugurated in 1985 through the generosity of F. William Harder, a Skidmore parent who served as trustee from 1968 to 1980. The lecture brings together students and faculty with industry leaders to explore the current business environment and upcoming challenges.