Another $1 million grant for firefighter health research
June 20, 2011
Eric Hultquist '10 tests a firefighter in Skidmore's
First Responder Health and Safety Center.
With the aim of reducing the number of firefighters who die or suffer from on-the-job heart attacks, the U.S. Department of Homeland Security has made another major investment in pathbreaking research by two Skidmore College professors.
A new grant of $1 million announced by Senator Charles Schumer brings the total amount to $2.6 million that the agency has awarded since 2007 to Denise Smith, Class of 1961 professor of health and exercise sciences, and Patricia Fehling, professor and chair of health and exercise sciences. The grant is part of the Assistance to Firefighters Grant Program administered by the U.S. Department of Homeland Security.Smith and Fehling are focused on understanding why nearly half of all line-of-duty deaths of firefighters in the U.S. are caused by heart attacks and why another 800 to 1000 firefighters each year suffer non-fatal heart attacks. By closely studying the physiological changes that occur in firefighters as they perform their jobs,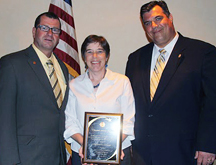 Denise Smith accepts an award from
Rich Paris, president of Boston's
Firefighters Union (Local 718), and
Mike O'Reilly, union legislative rep.,
at the 2011 awards ceremony in June.
The award cites Skidmore for its
commitment to firefighter health and safety.
Smith and Fehling have contributed to the development of national standards that guide the occupational health programs of fire departments around the country. And by documenting the physical strain associated with carrying heavy tools in a hot, hostile environment in 50 pounds of fully encapsulated "personal protective equipment" (PPE), they have provided manufacturers of firefighting gear important data for developing new materials and designs for lessening that burden.

"Paradoxically, gear that is designed to be protective against multiple hazards also poses a physical burden for firefighters -- a burden that increases cardiovascular strain and may increase the likelihood of cardiac events in a susceptible individual," said Smith, the grant's principal investigator.
Two of the most dangerous enemies firefighters must confront while battling a blaze are dehydration and heat stress. With their new grant, Smith and Fehling will closely investigate how each contributes independently to cardiovascular strain. The researchers also want to find effective strategies -- such as cooling and hydrating firefighters -- to reduce their risk and improve their performance.