Skidmore welcomes Class of 2015
July 14, 2011
Skidmore's Class of 2015 is expected to make its presence known on campus this fall when first-year students first begin arriving for orientation in August. The class totals 665 students, 35 of whom will arrive on campus Aug. 22 for a two-day orientation before flying to England for the First-Year Experience in London. Athletes also begin arriving at this time, and additional pre- and regular orientation programs are scheduled from Sept. 1-4. Classes begin Wednesday, Sept. 7.
The first-year class demonstrates a rich array of attributes. Students of color comprise 23 percent of the class. Seven percent of the First-Years are international students - the largest number of international students to date, according to Dean of Admissions and Financial Aid Mary Lou Bates. Skidmore received 5,782applications; new students hail from 32 states and Washington, D.C., as well as 32 different countries (other than the U.S.). Male students are 43 percent of the class population.
Networking online
Many members of the Class of 2015 already know each other through social networking. In the spring, these studentswere invited to participate in an exclusive Skidmore social network on Facebook using the Schools App, as a way to meet each other online before ever setting foot on campus. Skidmore is one of only two colleges in New York State currently using the platform.
To date, 687 incoming students (including new transfer students) have been invited to the Skidmore College on Facebook network. Approximately 70 percent have logged in and are beginning to network with each other: making plans to attend a concert at the Saratoga Performing Arts Center in September, or organizing an August meet-up in the Boston area, and introducing themselves to future classmates in their Scribner Seminars?thecenterpiece of the First-Year Experience. (For a list of the 2011 Scribner Seminars,click here.) This fall, the entire student body will be invited to participate in the network, making it even more valuable as a community builder.
"The interaction between students in the Skidmore College on Facebook private network is rich, engaging, and personal," says online community manager Daniella Nordin. "Moving from a public to a private space on Facebook allows us to extend the sense of community that is so important here at Skidmore beyond our campus walls while simultaneously meeting incoming students' needs."
First-Year Experience
.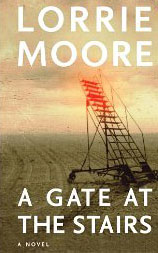 The Facebook network is a way for incoming students to experience Skidmore before being on campus. Another important element of the First-Year Experience is the summer reading assignment, which provides a shared academic experience and forms the foundation for a number of on-campus activities this fall. This year's book is A Gate at the Stairs, by Lorrie Moore, granddaughter of Skidmore's second president, Henry Moore. The novel tells the story of a young woman studying at a Midwestern university who secures a job as a part-time nanny for a wealthy and mysterious couple.Through the course of her employment, she discovers important aspects about her own identity, and experiences the pervasive nature of racial and class stereotyping, the tenuousness of morality and integrity, the power of love, and the tragedy of war.
All first-year students are expected to read, contemplate, and scrutinize the book in its entirety prior to arriving on campuswith the expectation that they will examine and discuss the issues in the reading throughout the academic year. Partnering with several offices around campus, the First-Year Experience will organize the year's programming around the novel's many themes.
Financial Aid
Approximately 41 percent percent of the class of 2015 has received financial aid in the form of Skidmore institutional grants. Theaverage grant was approximately $30,700- the highest average institutional grant to date, according to Beth Post-Lindquist, Director of Financial Aid.
More than 200 students applied for thePorter Presidential Scholarship in Science and Mathematics.Established in 1998 in honor of Skidmore's fifth president, David H. Porter, the program typically supports five students in each incoming class.Candidates are selected on the strength of their admissions applications, with emphasis on course work in science and math, standardized test scores, teacher recommendations, and pursuits in these areas beyond the classroom.Each Porter Scholar is awarded a $60,000 scholarship ($15,000 per year).
Additionally, 37 students were invited to compete for the Filene Music Scholarship. Five members of the Class of 2015 were awarded Filene Music Scholarships based on a performance competition coordinated by Skidmore's Department of Music. The annual scholarship is $12,000 each year or $40,000 over four years.