Doing well by doing good
November 29, 2012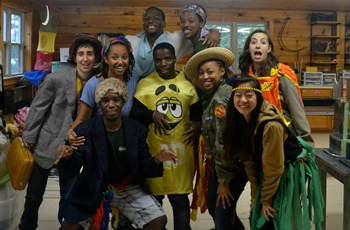 Current and recent Skidmore students in "dress-up mode" on a visit this
fall to Camp Little Notch in Fort Ann, N.Y. Photo by Kali Block-Steele
American studies students have organized a series of cultural events to benefit a regional summer camp for girls. FemFest 2012 offers music, art and poetry, all for a good cause.

Students enrolled in AM 376E: Disorderly Women, taught by Rebecca Krefting, assistant professor of American studies, have organized a series of entertainment fundraisers to benefit Camp Little Notch. FemFest 2012, scheduled Nov. 29 to Dec. 1, will offer several opportunities for cultural engagement. Events are open to the campus community and the general public.

The course has a strong civic-engagement component that helps students understand the nature of "disorderly women," says Krefting. "For 200 years, the term 'disorderly women' has been applied to women, many of whom have been working for social change and justice," she explained. She asked students, "How can we create disorder with a positive focus?"

She wanted to develop a sustainable relationship with an outside entity that the students could learn about and relate to. Camp Little Notch, in Fort Ann, N.Y., fit the bill. Through her network of friends and organizations, Krefting got to know the camp director and learned about the organization's mission. She called the camp "an amazing opportunity" for girls, explaining, "it is welcoming to all girls and supports a diverse community. If a girl with limited resources wants to attend, she will not be turned away."

The 20 students in the class visited the camp, met with staff there, and got a firsthand feel for its mission and goals. Working on behalf of Little Notch allows the class to put theory into practice. Says Krefting, "We're doing what we are studying."

FemFest kicks off at 9 p.m. Thursday, Nov. 29, with Battle of the Bands, a competition taking place at Lively Lucy's in Falstaff's. The bands, all of which performed in the recent Beatlemore Skidmania program, include Skinny White Folk, The Hillary's, Bo Peep and the Funk Sheep and Good Neighbor.

If loud music isn't your thing, maybe some of the other entertainment will appeal to you. FemFest continues Friday, Nov. 30, with a spoken-word performance poet Mayda Del Valle. A talented wordsmith who has performed at the White House and was an original cast member and writer for the Tony Award-winning Def Poetry Jam on Broadway, she will perform at 10 p.m. in the Spa, Case Center.

Saturday's event promises family fun and a great way to take care of holiday shopping. On Saturday, Dec. 1, the class will host a silent auction from 4 to 6 p.m. at the Francs Young Tang Teaching Museum and Art Gallery. All attending will have a chance to view the fall exhibits, listen to great music, learn more about the camp, and bid on all kinds of cool stuff. Items range from gift cards to local restaurants and businesses, to autographed sports memorabilia, to massages, ceramics, and ice-skating instruction. Said Krefting, "Have family coming into town for the holidays? Come bid on an overnight stay at the luxurious Saratoga Arms and after your family leaves that 10-week stress reduction workshop you could win is sure to come in handy!" Child care for children ages 2–12 is not only free for families during the auction, but will engage young charges in creating their own artwork that can be worn home and appreciated long after the event. Light hors d'oeuvres and mulled wine will be provided, along with musical entertainment from MaryLeigh Roohan and the Nancy Walker Trio. Winners will be announced starting at 5:30 p.m. and payment should be made on site by cash or check.

Go home and drop off all your loot, grab a bite to eat, and come on back to Skidmore, because at 9 p.m. Saturday in the Spa, Micia Mosely, Ph.D. will perform her one-woman show Where My Girls At: A Comedic Look at Black Lesbians. This nationally acclaimed show has been featured at hip-hop and pride festivals around the country and includes a post-show talkback.

All FemFest proceeds will support Camp Little Notch, a progressive, empowering summer camp that teaches a diverse population of girls to live in harmony with nature, each other, and themselves. Support Camp Little Notch by attending FemFest 2012 or by donating directly to the camp at www.friendsofcln.org. For questions, contact Krefting at rkreftin@skidmore.edu.