The future of interactivity
March 19, 2013

The future of interactivity
Four of Skidmore's most accomplished interaction designers will speak on campus April 9. Their focus: What will computer software enable us to do next?
April 5, 2013

Four of Skidmore's most creative and tech-savvy alumni will return to campus Tuesday, April 9, to lead two programs that will explore the burgeoning power of artists, programmers, and entrepreneurs to apply the tools of interaction design in creating new games, apps, artistic works and businesses.
Leading the afternoon and evening sessions are:
The evening session—titled "The Future of Interactivity"—begins at 7 p.m. in Filene Recital Hall. Focusing on the technology of interaction design, the speakers will examine powerful new forms of interaction that are emerging on the Web and on mobile devices, and discuss examples of interactions that they have personally produced or particularly admire. They also will discuss the strategic objectives and creative processes that generated them.
The afternoon session will be a 90-minute career panel starting at 2:10 p.m. in Filene Recital Hall. The speakers will discuss the satisfaction they derive from creating compelling software experiences, how they started in the field, opportunities for employment, and options for graduate study. Sponsored by the Career Development Center, the program will be attended by students in the interaction design class taught jointly by Deb Hall, associate professor of art, and Michael Eckmann, associate professor of computer science, and in the entrepreneurship class taught by Colleen Burke, executive-in-residence in management and business. Anyone interested in the subject also may attend.
With its strengths in art, computer science, and business, Skidmore has graduated a large and closely networked community of alumni working in interaction design. Collectively, the April 9 visitors reflect the wide range of opportunities these alumni are finding and the successes they're achieving.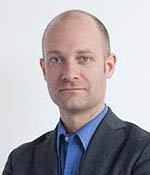 (clockwise from top left) Zach Gage '07, Jonathan Hills '97,
Charlie Whitney '06, and Brian Kelley '00

---
Zach Gage drew national attention with his launch in 2011 of Spelltower, a word-puzzle game for iOS devices that Wired describes as "combining anagramming and spatial tactics in an addictive, clever way." Wired describes Gage—who recently raised $41,000 in a Kickstarter campaign to launch a new board game called Guts of Glory—as "voraciously advancing our understanding and appreciation of how games can teach and move us." Gage describes Guts of Glory as a "mouth-cramming, deck-spewing, competitive card game for 2–4 players set in the post-apocalypse."

Jonathan Hills has honed the craft of interactive design for the last 15 years with the belief that authentic engagement —not advertising—is the key to marketing. Founding DOMANI in 2001, he has created compelling interactions for Estée Lauder, Westin Hotels and Resorts, Gucci, Nintendo, Victoria's Secret, the Whitney Museum, Sony and New Line Cinema, and other high-profile brands. In 2010, DOMANI was singled out by Advertising Age for having launched the "Most Awarded Campaign of the Year" across all media. The project commissioned by the JFK Library and titled We Choose the Moon, deeply engaged people around the world by recreating the historic, four-day Apollo 11 mission to the moon in real time.

Brian Kelley has applied his design background and ability to lead multitalented teams to launch and grow a number of businesses. In addition to co-founding Reputation.com, his companies have included The Bay Citizen, a nonprofit, Web-based news venture centered in San Francisco; TicketRESERVE, a futures market for sporting-event tickets; Next Generation Insurance Group, a groundbreaking insurance marketing company focused on life-stage and specialty markets; and others. Kelley also advises startups—from Hipiti, a retail site that "strives to be the most dependable source for sale and promotion code information from all your favorite retailers," to Storify.com, where users can "tell stories by collecting updates from social networks" and "amplify voices that matter to create a new story format that is interactive, dynamic and social."
Charlie Whitney is a media artist and programmer interested in making "real-world physical experiences through installation, fabrication, and projection." He is a front-end developer affiliated with Brooklyn-based Red Paper Heart, an art studio made up of designers and coders who work together to combine interactivity and animation. He has created many award-winning games and interactions, many of which can be found on their Web site.