O'Donnell among 11 to retire this year
May 13, 2013
O'Donnell among 11 to retire this year
May 12, 2013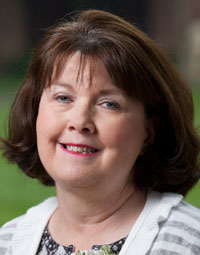 Mary O'Donnell (Photo by Phil Scalia)
Longtime Scribner Library employee Mary K. O'Donnell, who has handled hundreds of thousands of books during her 41 years at Skidmore, will retire May 24.
O'Donnell spent her entire career — first as a circulation assistant and then as a public access assistant, her current title — on the Scribner staff. She is part of a legacy family of Skidmore employees — her mother, Katherine O'Donnell, was a member of the Housekeeping staff on both the downtown Scribner and Jonsson campuses.
A native Saratogian, Mary O'Donnell is a graduate of St. Peter's Academy (now Saratoga Catholic Central High School), and worked for the city of Saratoga Springs, St. Peter's Academy, and Trice Juron Ford on Congress Street before coming to Skidmore.
Not surprisingly, this lover of words and ideas especially enjoyed the Skidmore "perk" of hearing some prominent speakers who visit the College. But one of O'Donnell's fondest memories predates her Skidmore employment. While still in high school, she attended a talk by New York's Sen. Robert F. Kennedy in 1967. She explains, "I asked our religion teacher to take us over. A friend and I stood along the wall inside College Hall, which was full. Sen. Kennedy actually came down our way and we shook his hand. It was really exciting."
As a Skidmore employee, she heard such speakers as Bernadette Devlin, the youngest person elected to Parliament in Northern Ireland; Rep. Shirley Chisholm; actor Charlton Heston; and Chip Carter, son of then-candidate for president Jimmy Carter. "He came to speak at Starbuck Center. I had my trusty camera and was just standing around taking pictures when he spotted me and took the camera and gave it to an aide ­­— we stood together and had our picture taken," O'Donnell recalls.
In her early years on the library staff, O'Donnell says, many tasks were done by hand. "The books had cards that were signed by patrons or put through the Sysdac machine, which would deposit the name and ID of a student onto the book card. Cards were counted daily. When items were returned we had to match all the books and book cards. If they were overdue they had to be set aside to tally the fines. Overdue notices were handwritten weekly and sent through campus mail. In those days, faculty could keep books for a decade! A few years ago that policy changed to a two-year maximum check-out."
In the early 1980s, Scribner Library was victimized in a book-theft scam run by a psychologist and a former lawyer, who used aliases to obtain library cards. The caper involved books valued at $20,000 stolen from libraries on the East Coast. A New York Daily News report on the scheme noted that the pair "apparently were hoping to write a book of their own about their exploits, entitled False Pretenses."
Scribner Library introduced computers in 1985, and by 1991 an automated check-out system was in effect. The current system tracks overdue books, late fines and replacement fees; processes course reserve requests; handles renewals — "and so much more than anything we thought of 40 years ago," says O'Donnell.
Some of the other positive changes she has observed: databases that allow searches 24/7, librarians who specialize in specific fields or disciplines, and a systems librarian "who keeps our computers humming along."
Cake recognizes O'Donnell's decades
of service
.
Through the years, one of O'Donnell's favorite constants has been the students. "I have a special place in my heart for the many student workers I have trained over the years. We average about 30 students a year — you could say about 1,000 students have passed through our 'boot camp'. I now find familiar names and faces on Facebook. I love to read Scope and to see what they have been doing and how their families have grown. A few years ago, a young man came to the circulation desk to check out a book and I saw the name on his ID card. I mentioned that he reminded me of a girl who used to work for us, and he said, 'That is my mother.' "
With retirement ahead, O'Donnell has no plans to slow down, just to shift focus. Her reading list includes novels by Sue Henry and books on Saratoga history, a favorite pursuit. She also plans to continue her volunteer work on behalf of the Church of St. Peter, where she is a parishioner.
She plans to put the family homestead (owned by O'Donnells since 1902) on the market, and there's even a possible trip to Ireland in the future. "My niece's 40th birthday is next year and we're talking about the idea of a visit to Ireland," she reports. "My time at Skidmore has flown by. I feel lucky to have had a job that I loved."
O'Donnell will be among the 11 retirees and other employees recognized on Tuesday, May 21, at Skidmore's annual employee retirement and recognition luncheon. The event begins at noon under the trees on Case Green.