Pre-College Program a jump start for eager students
July 26, 2013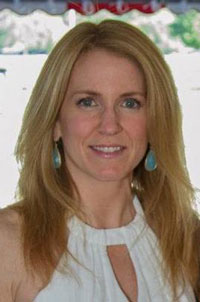 Michelle Paquette
This summer marks the start of the fifth decade of Skidmore's Pre-College Program, which draws students from around the world for a five-week session of intensive, college-level study during the summer session. Students are embracing the chance to try college on before taking college on, said Michelle Paquette, director of the program in the Office of the Dean of Special Programs.
According to Paquette, 14 of the enrollees are commuters and 72 percent are rising high school seniors. Residential students are required to take two classes for a total of at least 10 hours per class, per week.
A professor's perspective
François Bonneville, a member of the English Department faculty, has been academic advisor for the Pre-College Program for approximately 12 years. He reviews all applications with the program director and handles writing placement testing, and in addition teaches a writing seminar titled "Love Motives and Motifs." The course is geared toward helping students produce "analytical essays informed by critical reading and careful reasoning," according to the course description, with attention on such writing fundamentals as grammar and style. Students are expected to revise their drafts.
François Bonneville
Bonneville uses short stories, movies, and plays to help students "look at assignments through various interdisciplinary perspectives." The theme-based course gives students "a logical approach to defining terms from the social sciences and philosophy" and "forces them to engage in critical writing," he added.
This year's class "is a joy," said Bonneville, continuing: "They ask good questions. At the end of five weeks I always see improvements in such areas as originality, clarity, and grammar/punctuation. I tend to see a more authoritative voice," he said.
The students recognize that hard work now can lead to solid rewards later. Said Bonneville, "Pre-College students do not ask to be entertained. This is a smart but underserved group. For many of these students this is a great opportunity and they do not want to squander it."
Voices of students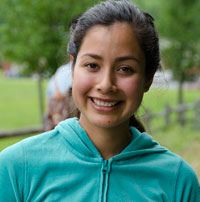 Arismel Tena (Joe Levy photo)
Several students who participated in a community service project in mid-July confirmed Bonneville's opinion. Paquette annually helps students connect with Saratoga Springs through community service. Past opportunities have included working with the Economic Opportunity Council and at the Universal Preservation Hall. This year students helped clear debris at the Spring Run Trail, under the auspices of Saratoga P.L.A.N.
Early on a warm, overcast Saturday, more than a dozen students raked, collected trash from the stream and pulled weeds along the trail, which is a favorite for hikers and bicyclists.
Arismel Tena, 16, who will be a high school senior in Salinas, Calif., this fall, offered positive feedback. "I like giving back to the community," she said with a bright smile. "It is good to assist."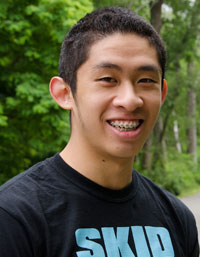 Gordon Hu (Joe Levy photo)
Enrolled in calculus and psychology courses, Tena is enjoying the academic challenges and her first taste of independence. "It's hard, but I like it. I'm experiencing new things. I've never been independent – I have always wanted to be in a group. It feels good to be independent – I like it." She added, "I really love math and don't mind putting the time into it. I like psychology and learning how the brain functions."

Having completed five AP classes thus far, with another four on her senior-year schedule, Tena feels prepared for college work and more confident as a result of her Skidmore summer.

Other students at the trail Gordon Hu, a 16-year-old rising junior from Manhattan, called the program "awesome" and gave thumbs up to the variety and quantity of food in Murray-Aikins Dining Hall, the campus pool and gym in the Williamson Sports Center, and the chance to visit downtown Saratoga Springs.
Enrolled in calculus with algebra and anthropology, Hu said he has a manageable course load and that he is not "stressed out" by academic requirements. With career interests that include medicine and pharmacy, Hu appreciates the chance to explore college life before making a commitment to a specific course of study.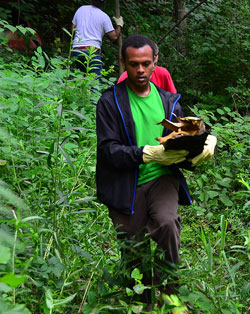 Biruk Mulaw, clearing the trail. (Joe Levy photo)
Biruk Mulaw, 18, of Boston, is a veteran volunteer, having worked at the Boston Cares Food Bank and other community service projects in his hometown. This summer he is enrolled in physics and psychology courses that are "going well" for him. He acknowledged feeling "a bit overwhelmed" at first but has learned to manage his course work. He enjoys the physics class because "I like learning about things I did not know about." The program's field trip to Great Escape amusement was also a big hit for Mulaw.
Thoughts from a program alumna

Contributing to the success of the Pre-College Program is the residential staff. This year 10 Skidmore undergraduates are residential assistants, four of them are alumni of the Pre-College Program, like Jasmyn Story, Skidmore Class of 2015, now in her second year as a program RA.
An anthropology major who is minoring in Italian and international affairs, Story enrolled in Pre-College during the summer of 2011. "I was about to attend my first semester of my first year in the Skidmore in London Program," she explained. "I saw Pre-College as a way to get to know the campus and Saratoga Springs before heading abroad, and I wanted to complete some courses."
Jasmyn Story '15
One of those courses was Bonneville's "Love Motives and Motifs," which she called "one of my favorite classes ever. I still look at my course notes from that class. On one paper François wrote, 'A very mature piece of writing.' I could not wait to show my parents!"
Story continued, "Pre-College courses helped me get into a school mindset and helped to raise my GPA."
One of the responsibilities for RAs is to mentor the high school students, which Story takes seriously. This year, for the first time, she has developed a performance project focusing on Black theater with an underlying emphasis on cultural relations. Participation in the piece is voluntary and Story has recruited about 20 students who are handling all aspects of the production, including poster design and musical accompaniment.
Her rationale is simple: "I wanted the students to know that Skidmore embraces diversity, and I wanted the liberal art students to have a chance to demonstrate their talents, because the studio art students get to show their work in an exhibition."
The project is a staged reading titled "How Long Must We Wait? A Glimpse of Black Theater Through the 20th Century." The play aims to showcase the contributions of African American artists to the theater world. The performance will consist of 10 scenes, each representing one decade of the 20th century. The scenes will be read aloud by students, rather than memorized, to underscore the power of the spoken word.
Free and open to the public, the play begins at 7 p.m. Wednesday, July 31, in Filene Recital Hall.
"America, the Land of the Free," by
Chrisbel Placencia. Week 1 Photo
Contest winner.
For Story "The miraculous thing about the Pre College Program is the way it fosters personal growth. Students come from diverse backgrounds ­­­­— cultural, geographic, and economic — and they are so open to learning from each other."
Program earns notice
That cross-cultural fertilization is one reason that Skidmore's Pre-College Program has received two grants from the prestigious Teagle Foundation. The current grant cycle, covering 2012–14, focuses on building inclusive communities. Faculty and student staff have received training in how to best serve a diverse student population.
In addition, the Teagle funds have enabled Skidmore to enroll 12 students from Sponsors for Educational Opportunity, a New York City-based community partner­­­ — one of several partnerships that Skidmore has established to spread the word about the Pre-College summer option to high-achieving but underserved students. The result has been a more diverse student body: 39 identify as students of color, 22 identify as white, and 13 did not identify.
Paquette and the student staff developed strategies and interactive programming such as a weekly photo contest in which students are welcome to articulate and share their Pre-College experience. Each week a winning image is chosen and the photographer receives a Skidmore CamelBak water bottle.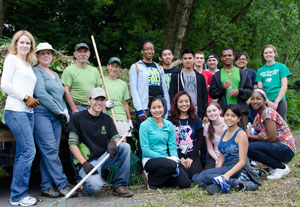 Pre-College team with Saratoga P.L.A.N. on Spring Run Trail.
(Joe Levy photo)
After more than 40 years, Skidmore's Pre-College has a strong track record of successful outcomes. Bonneville, who visits SEO in New York each March as a guest lecturer, said, "When I go down to SEO, I learn that every one of my students is going to college. They are self-confident and their desire for success is huge." The spring visit is also a chance to reconnect with former students. One recently told Bonneville, "I'm very consistent with my tenses now."
Paquette noted that about half of the Pre-College alumni apply for admission to Skidmore, about half of those are accepted, and about half of those enroll. In the fall of 2012, nine members of the entering Class of 2016 had completed the Pre-College Program; this fall, 10 Pre-College alumni will matriculate in the Class of 2017.
Said Paquette, "The Pre-College Program can be life-changing. For those who are first-generation college students, the program confirms that they can do the work. It is powerful and very motivating to be able to show success at the college level."

(The following photo gallery shows the students at work July 13 on the Spring Run Trail, where they spent a half day pulling garbage from the stream in addition to raking, collecting trash, and weeding along the trail. Spring Run, under the auspices of Saratoga PLAN, is a popular location for walks and bicycle rides. All photos by Joe Levy.)