New Heights: A decade of accomplishment under the Glotzbach presidency
October 18, 2013
Ten years ago, Philip A. Glotzbach was inaugurated as Skidmore College's seventh president. What a decade it's been.
In the summer of 2003, Philip Glotzbach and wife Marie headed out on a cross-country drive from Redlands, Calif., to Saratoga Springs, N.Y. They stopped along the way to visit with family and friends and talk over the new post that awaited: the presi­dency of Skidmore College. The closer they drew to New York, the more optimistic they became about the possibilities that lay ahead. As Phil Glotzbach recalls, "We had been impressed by Skidmore's focus on creativity, its welcoming community, and especially its forward-looking nature." But even they could not have foreseen how dramatically the college would change in his first decade as its seventh leader.
Phil and Marie Glotzbach
(Photo by Mark McCarty)
A stronger footing
At the base of Skidmore's great strides in the Glotzbach years is a significantly strengthened financial foundation.
The College has nearly doubled its endowment, from $156 million to $303 million, earning an A1 bond rating from Moody's. Much of this success is attributable to the "Creative Thought, Bold Promise" campaign to build Skidmore's endowment and fund the "Engaged Liberal Learning" strategic plan for 2005–15. The campaign's goal was roughly divided into $50 million for each of four areas: the annual fund and endowment, academic priorities, financial aid, and campus construction. Under the leadership of the Glotzbach administration and the Skidmore College Board of Trustees, the campaign exceeded its $200 million goal by $16.5 million.
More than 18,000 alumni, parents, employees, and students contributed, and nearly 1,000 alumni and parents attended presidential advisory dinners and town-hall meetings to help the College lay out its strategies for transforming the Skidmore enterprise. Virtually every constituency rallied to invest in the new vision. Trustee Janet Lucas Whitman '59 recalls, "People put their trust in Skidmore. They knew that giving was a terrific investment."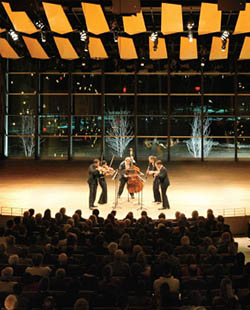 An early Carnegie Hall Premieres concert in
Zankel's finely tuned Ladd Concert Hall
(Photo by Stefan Cohen)
A new campus footprint
Visitors returning to Skidmore's campus after 10 years are astounded by its physical changes. New student residences abound, including the Northwood Apartments that debuted in 2006 and the recently opened 230-apartment Sussman Village, which replaced Scribner Village. Other residences have been refurbished and appointed to entice more students back on campus, especially after Moore Hall was closed and sold. A dramatic renovation of the Murray-Aikins Dining Hall included a revamped array of fresh, healthy, and award-winning food that draws the entire campus community.
Renovations were also made to the Saisselin Art Building, Scribner Library and information technology, Filene Hall, athletic fields, and a broad cross-section of classrooms, laboratories, and gathering places. The College also has ambitious plans for a new admissions center and science facility.
The Frances Young Tang Teaching Museum and Art Gallery, built in 2000, has continued its development into a groundbreaking center of creativity that draws thousands of visitors to its shows and events. It serves as a national model for the way college museums can integrate academics and exhibitions.
The most dramatic addition to the campus is the Arthur Zankel Music Center, funded by the estate of trustee Arthur Zankel, P '82, '92, and other donors. The state-of-the-art facility offers fully wired classrooms and soundproof practice studios and fosters the development of interdisciplinary presentations for its 600-seat Ladd Concert Hall. The center has been hailed by experts and audiences far and wide for its "warm and bright" acoustics and advanced technologies. The superb facility is the headquarters of a precedent-setting partnership with Carnegie Hall, attracts Grammy-winning record producers, and presents a schedule of renowned guest artists from around the world.
Sustainability from the ground up
Zankel and the other new buildings and renovations were all undertaken with a keen eye to the College's carbon footprint. Skidmore hired its first campus sustainability coordinator in 2008 through a pilot grant, and today the job is permanent; two additional grant-funded fellows are on board as well. The office's portfolio includes strengthening campus stewardship of the 300-acre North Woods, advising the student-run organic garden that supplies over half a ton of produce to the dining hall each year, and running lively annual programs like the Skidmore Unplugged residence-hall energy conservation contest. More than 30 on-campus internships focus on sustainability, and more than 50 professors teaching sustainability-related courses use the campus as a teaching tool.
Dan Rodecker, director of facilities services, says 40% of the campus is now geothermally heated and cooled, and the old, 60% efficient heating plant has been updated to 90% efficient boilers. With Skidmore's creative use of geothermal (lauded by the Association for the Advancement of Sustainability in Higher Education) and other efficiencies, Rodecker estimates that the new residences and the 56,000-square-foot Zankel were added with virtually no increase in campus energy consumption. He and Vice President for Finance and Administration Mike West credit the Glotzbach administration's vision and commitment: "Bringing in a sustainability coordinator, supporting facility upgrades and new ideas, advocating for conservation by the whole community—these all came from Phil with the support of trustees," West says.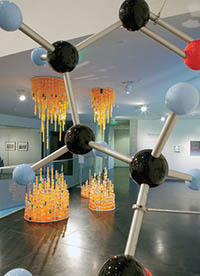 Molecules That Matter: just one of
the Tang Museum's news-making interdisciplinary shows (Photo by
Art Evans)
A curriculum revitalized
"A liberal education is one that opens the mind and frees the soul—something Skidmore does particularly well," asserts government professor Beau Breslin, dean of the faculty and vice president for academic affairs. "Over the past decade, we've been making curricular changes that better prepare students to transition into the next stages of their lives."

The First-Year Experience, a 2005 innovation, helps freshmen start strong in academic engagement with faculty mentors and peers. FYE's Scribner Seminars immediately immerse new students in small-group studies of their choice that are amplified with study-skills workshops and field trips. Seminar members are housed close together, and the same professors mentor their students through their sophomore year. The FYE summer reading is now a well-established academic tradition that involves first-years with upperclassmen in yearlong discussions and events about a book, film, or music selection. The importance of the FYE was quickly visible as freshman retention rates rose and are now at 93%.
Engagement at the intersections of knowledge, Breslin says, is the key to an effective 21st-century education—and to Skidmore's very identity. "Our style of integrating our strengths in the arts, the humanities, preprofessional programs, and increasingly the sciences is what makes us distinctive." Over the past decade, interdisciplinary programs have blossomed into some of the most popular majors. In 2012 Skidmore became the first US college to offer a minor in intergroup relations, synthesizing race and dialogue courses with work in sociology and other fields. Another new addition, the minor in arts administration, combines Skidmore's traditional vigor in arts and business courses with independent real-world experiences.
"Thinking creatively, integrating varied perspectives, and communicating across difference are all critical for our students as they negotiate and shape the global environment they are entering," says Breslin.
A focus on financial aid
No priority has been higher than helping more families afford a Skidmore education. As Glotzbach has said, "If we expect to graduate students who value the common good, then Skidmore has to model this kind of behavior."
With applications hitting a record-shattering high of 8,300 this year, Skidmore has no trouble filling its freshman classes with strong students. But the College's mission to educate a diverse cadre of skilled, broad-minded, and creative leaders means opening the doors for those with financial need. Even when the national economy soured in 2008, Skidmore tightened other budgets across campus to continue enlarging its aid resources and keep tuition increases to a minimum (1.9% in 2010).
A decade ago, Skidmore's financial aid budget was $16 million, representing 15% of the overall operating budget. This year it stands at $39 million and 22% of the budget—a rise of 20% since 2003. Also the average aid package has doubled, to $31,315 last year. But demand has been skyrocketing just as fast. Since 2007, the portion of applicants requesting aid went from 52% to 68%, and Skidmore could afford to offer aid to only 44%. "It's incredibly hard any time we can't admit a compelling student because of limited aid," says Mary Lou Bates, vice president and dean of admissions and financial aid. But she's proud of Skidmore's commitment to enrolling more socio-economically and culturally diverse classes: "It's palpable on campus that students are bringing more varied perspectives."
As long as financial aid remains a top priority, Bates says her staff will be able to populate Skidmore with a diverse, creative, capable student body, and still with a smaller burden of student-loan debt than the national average. She says, "Skidmore is seen as an increasingly strong institution. We are competing successfully for top students with increasingly selective and well-funded colleges."
Vibrancy and diversity in student life
As the campus community has grown significantly more diverse in the Glotzbach years, Rochelle Calhoun, dean of students and vice president for student affairs, says Skidmore is "a particularly fine example of how to challenge young people to integrate their intellectual, emotional, and social selves and move forward with their whole lives." One avenue for this—which has swelled into a broad, busy thoroughfare—is ethnic and cultural diversity, which, says Calhoun, makes for "a very dynamic, stimulating environment of both rigor and curiosity."
In the past decade, the percentage of domestic students of color nearly doubled, from 12% to 22%, and the percentage of international students has quintupled. New support services are helping with what Calhoun calls "navigating and celebrating the increased variety in our community." A full-time coordinator now assists students with learning, mobility, and other disability needs, and a faculty director of intercultural studies, a new academic program in intergroup relations, and enhanced orientation programs focus on bridging differences.
Calhoun says, "This generation wants to connect across all sorts of boundaries. Our goal is to help facilitate and organize that, while also fostering students' autonomy." In her five years at Skidmore, she says, the College has heightened its "attentiveness to the foundational and healthy values that help our students become some of the most creative human beings I know."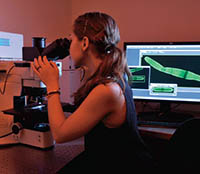 With more students engaging in labsciences, a new science building isin the plans (Photo by Gary Gold)
Science's big boom
One of the most transformative aspects of Skidmore's academic evolution during the Glotzbach presidency has been in the physical and life sciences. He has consistently stressed that science literacy is essential for every citizen and that the world at large needs more and better scientific minds to address the urgent problems we face, and he adds, "All of academic life benefits from a healthy balance among the natural sciences, humanities, social sciences, and arts."
One-third of Skidmore students now major in a science, a 50% jump over the decade, and much of the growth has been in interdisciplinary fields. The environmental studies and neuroscience programs together boast more than 100 majors, even though these interdisciplinary programs are barely a decade old.
The Lubin Family Professorship for Women in Science continues to bring in top-flight young scholars, and the new Williamson Chair in Neuroscience bolsters that discipline. Articulation agreements with engineering schools and a recent compact with NYU's nursing school is facilitating a range of graduate training for science students. The number of Skidmore students applying to med schools and other graduate health programs has tripled, and their acceptance rates remain far higher than the national average.
As research becomes a centerpiece of science teaching, Skidmore's 90 science faculty are winning more grant funding for their research—up from $2 million in 2005 to $9 million today. Faculty-mentored summer research, which entails a 40-hour-a-week immersion in lab, studio, library, or other academic work with a faculty partner, has grown from an average of 20 students to nearly 100 in recent years.
A state-of-the-art science center
With interest in science on fire at Skidmore, the College's science facilities are "bursting at the seams," says chemistry professor Kim Frederick. Harder Hall, Dana Science Center, the Tisch Learning Center, and Williamson Sports Center labs were all built for older, smaller-scale work.
Meanwhile, "Skidmore's interdisciplinarity is deep and meaningful to students. They don't just study science and another discipline; they bring their different passions together and collaborate in really fascinating ways," says Karen Kellogg, environmental scientist and associate dean of the faculty for infrastructure, sustainability, and civic engagement. After more than a decade of faculty discussion and task forces, she and Frederick are helping translate the resulting vision for the sciences into the plans for an innovative, interdisciplinary science building, now being vetted by architects, faculty, administrators, and trustees. "We want strong core sciences, but we want to make sure they're very permeable," Kellogg says—after all, adds Frederick, "The easy problems in science have already been solved. The hard ones, the exciting ones, are at the intersections."
The science center will offer independent project spaces, with many rooms flexibly designed to be reshaped or shared. Rather than departmental wings or floors, the layout puts people and equipment into user groups, where, for example, all the animal labs or a particular suite of instruments can be housed in proximity to the faculty who use them.
The Skidmore community is abuzz over the new facility. In Kellogg's words, "This is a building for the whole campus. It will enrich all teaching and research by fueling both formal cooperation in labs and casual conversations in hallways and lounges." Imagining a business student seeking help building a product in a science lab, and the collaboration and ingenuity such work can foster, Frederick predicts, "This is going to unleash creativity in ways we cannot even imagine."
World-savvy graduates
"A liberal education," by Phil Glotzbach's definition, "is an investment in the full scope of one's life."
And today the full scope is increasingly global. Programs like SEE-Beyond and internships support scores of Skidmore students in apprenticeships, workshops, and international service that complement and enrich their academic programs. The international affairs program has grown from a minor to a major. International connections have also been sharpened by the Committee on Intercultural and Global Understanding, which has awarded presidential discretionary funds to projects like a Muslim chaplain's residency and a Chinese music concert. Supportive alumni have made possible other rich experiences like the Freirich Business Plan Competition, the grassroots Skidmore Business Network, and more summer collaborative research and overseas study.
In 2001 Skidmore ran just four of its own overseas programs, and only 30% of students studied abroad. Today it's up to 60%, placing Skidmore fourth among U.S. baccalaureate colleges. Cori Filson, director of off-campus study and exchanges, says her office now facilitates not just college study but internships, work, and volunteer opportunities where students interact deeply with people of other cultures, tackle issues that are new to them, and help create real solutions to international problems. Filson urges students to explore locations beyond Western Europe, though she supports any study abroad, because "students really blossom in communities they couldn't enter otherwise." She observes, "Our students want to engage with the world. They don't see international education as a check mark on their to-do list; they're integrating it into their entire academic career and pursuing it after graduation too."
Surveys show that such in-depth activities are transformational, providing students with better-focused ambitions, higher skill levels, and greater confidence and maturity. These experiences often become stepping stones to grad school or a first job.
And Skidmore has ramped up services in the Career Development Center to help students articulate and act on their job goals. The CDC trains peer mentors to help with resumes and other prep, offers a wide range of resources, co-sponsors a popular Career Jam each year, and teaches job-related workshops. A new career counseling position was added to focus on the transition to grad and professional school.
Louise Mallette '74, a career-planning veteran and alumni board member who is consulting for the CDC, says, "The beauty of the liberal arts is that its diversity enables students to follow many amazing paths. Skidmore helps them make a thoughtful, deliberate segue between the liberal arts and translating their passions into job skills."
A healthier campus community
Murray-Aikins Dining Hall now attractsmore students to share more meals(Photo by Anton Grasso)
"A liberal education provides the best possible preparation for a well-rounded life of human flourishing," declares Glotzbach in the 2005 strategic plan. Such a life includes "personal growth and the cultivation of mature friendships as well as community involvement, attention to the arts and other sources of spiritual renewal, and a commitment to health and wellness."
Recently Skidmore has placed special emphasis on substance abuse, including the appointment of a new director guiding new programming. A Harvard-trained epidemiologist, Jen Burden started up the program and has used donations to hire a health educator and a substance-abuse prevention coordinator. Burden says, "Nutrition advice or more treadmills can be easy fixes, but when it comes to excessive drinking, we're talking about changing a national culture." And so her office is persistent in conducting research, requiring online prevention courses, partnering with parents and peers, and following up on counseling.
Offering fresher and wider food choices, longer hours, and an interactive ambience, the renovated Murray-Aikins Dining Hall serves up both health and social growth. Upperclassmen are glad to eat more meals on campus, and many professors are now regulars too. A vast range of student clubs and other cocurricular outlets also add to conviviality.
Athletics boosted
Varsity athletes help teach local youngsters in summer sports clinics (Photo by Charlie Samuels)
Just a few months into his presidency, Glotzbach had to rebalance the men's and women's sports programs with no wiggle room in the budget. Having seen as a father what sports can do for a young person's sense of self, he was a fan of all Thoroughbred teams. But he bit the bullet and announced a plan to shut down the ice-hockey program.
Immediately, hockey alumni and parents bonded together in protest—and in constructive work toward a solution. Glotzbach met with them, and together they restarted the Friends of Skidmore Athletics. Soon FOSA had raised enough money not just to save hockey but also to support all 19 varsity teams and create a Skidmore Athletics Hall of Fame.
With athletics' role in a liberal arts education expressly endorsed in the Glotzbach-guided strategic plan, athletics, fitness, and recreation programming have grown steadily. Some part-time varsity coaching positions increased to full-time, an additional trainer was hired, fitness offerings are expanding, and more Thoroughbred teams are earning postseason berths and winning league championships.
All the while, Skidmore athletes are staying true to their strong academic and service ethics. The Thoroughbred Society, introduced by Athletics Director Gail Cummings-Danson in 2006 to honor varsity players who earn grade-point averages of 3.67 or better, is inducting more members from all teams. She says athletics fosters "many skills you'd want to see young people develop while they're at college—leadership, conflict management, diversity self-advocacy, teamwork, and community service." Looking ahead, she notes, "We have a lot of well-conditioned, well-experienced athletes who are also great students, and that makes us stronger overall. As students get more and more sophisticated in making college choices, we'll bring in even more athletes who can be successful in the classroom and on the field."
Building community
In addition to serving as the president's partner and key advisor, Marie Glotzbach is a dynamic leader in her own right. She began spearheading public outreach as soon as her husband was inaugurated, building on the College's "creative and thoughtful spirit and the vibrancy of community in Saratoga Springs to help catalyze a collaborative sense of shared mission."
Students and staff join to donate
and deliver supplies for Hurricane
Sandy victims in New York City
(Photo by Charlie Samuels)
Saratoga Reads began in the Glotzbachs' first autumn. Each year a citywide vote is held to choose a book for adults and youths to read, and then related discussions, book signings, performances, and other activities are organized around it. Marie Glotzbach says the branding of the program came through a Skidmore marketing course working with a Saratoga communications firm. "The program caught on quickly," she says, "and now we're celebrating its 10th anniversary, which is very gratifying."
SaratogaArtsFest, a collaboration with several arts nonprofits, began in June 2005, to help kick off the Saratoga summer season and market the long, strong arts legacy that plays such a defining role for both city and college. A faculty member in theater and a veteran arts promoter, Glotzbach was in her element as she helped shape the extremely popular festival in its early years. It now has more than 60 partners presenting a four-day smorgasbord of visual arts, music, literature, and performing arts.
The holiday-season donation drive, Skidmore Cares, has also become a welcome annual tradition. In its first winter, the program collected much more than expected, and it just keeps growing. "Last year we collected more than $12,000 and gave 3,500 food, toiletry, and school items to nine area agencies," Glotzbach reports. "That's a powerful collective voice saying, 'We want to give back to this community that we care so much about.'"
It is a heady time for the College, she says of her husband's successful first 10 years, and they foresee much more progress to come. As they embark upon their next decade, she says, "We are both exactly where we want to be."
This story is adapted from the fall, 2013, issue of Skidmore Scope.