Sculptor, painter Leonard Urso named Raab Lecturer
February 7, 2014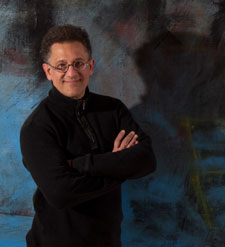 Leonard Urso
Artist Lenoard Urso will deliver the Rosanne Brody Raab Visiting Artist Lecture at Skidmore College at 6 p.m. Tuesday, Feb. 11, in Filene Recital Hall. Admission is free and open to the public.
Currently the Ann Mulligan Distinguished Professor in the School for American Crafts at Rochester Institute of Technology, Urso is known for creating large- and small-scale sculptures and paintings.
He began studying art at an early age and earned both bachelor's and master's of fine arts degrees at the State University of New York at New Paltz. He began his career as a designer and silversmith for Oneida Limited Silversmiths.
Said Urso, "Acknowledging the full history of human existence has helped to shape my vision as a contemporary person. My role as an artist is to capture human activity as it takes place in the moment, intimately revealing humanity's most intrinsic qualities. This artwork of mine should bear witness to the stories of our lives and at the same time reflect the depth of our past. Though personal, these stories are not about me, they are shared experiences that reflect our collective self."
Urso's art has been exhibited nationally and internationally and is represented in such collections as the Gyeongnam Art Museum South Korea, Art Institute of Chicago, Shanghai University of China, Kanazawa University of Japan, New York Times, Bucknell University, Times Mirror Company, Bausch & Lomb World Headquarters, Garth Fagan, Colgate University, RIT, and The Washington Post.
The Rosanne Brody Raab Lecture was endowed at Skidmore by Raab, a member of the College's Class of 1955 and an art advisor whose firm specializes in the arts of craft and design as a way to showcase artists working in clay, fiber, metal, and wood.