Actress/writer Obehi Janice in residence on campus this week
February 18, 2014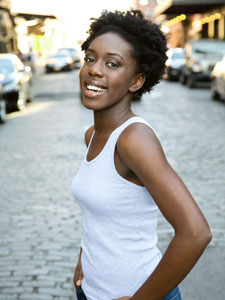 Obehi Janice
Obehi ["God's destiny"] Janice ["God is gracious"], a Nigerian-American actress/writer with two first names, will be a guest artist in residence Feb. 19-21 to help celebrate Black History Month at Skidmore.
Janice, whose work explores issues of race and cultural identity, will collaborate with a number of departments, programs, and student life activities in the days ahead. She also will stage a performance of her one-woman show FUFU & OREOS. The production is scheduled at 8 p.m. Thursday, Feb. 20, in Studio A, Bernhard Theater. Admission is free but seating is limited. Reservations are strongly urged and may be made by contacting Eunice Ferreira in the Theater Department.
Janice's solo work and writing explore the power of voice in identity, politics, cultural exchange, and testimony. She is a graduate of Georgetown University and has trained with Shakespeare & Company and Sojourn Theatre. She is the creator/performer of two solo shows: suddenly BLACK, at Georgetown and FUFU & OREOS. Recent performances of FUFU & OREOS include productions with MPAACT (Chicago, February 2013) and Sleeping Weazel (Boston, March 2013) and the Berkshire Fringe Festival (July/August 2013).
Janice also is the creator, producer, and star of the upcoming comedic music video titled BLACK GIRL YOGA.
A Boston-based theater artist, Janice has worked with Company One, Zeitgeist Stage Company, Underground Railway Theater, Actors' Shakespeare Project, Whistler in the Dark, and the Huntington, among others. She is also a director of devised work and a teaching artist.
According to The Boston Globe (Jan. 11, 2014), "FUFU & OREOS grew directly out of Janice's experience as the daughter of Nigerian immigrants. 'I didn't see that story, so I wrote it myself,' she explains. 'It encompasses my identity and the duality of being American and being Nigerian, of how strong your family ties are, being this multicultural person but also being an American, dealing with the balance of that.' "
Ferreira, assistant professor of theater who coordinated the residency, said, "I am thrilled to introduce the Skidmore community to Obehi Janice. I know the students will appreciate her generous spirit, her comic wit and the model of an actor/writer carving out her own artistic space. I initiated the visit to enrich the experience of students in my Black Theater course but I knew that there would also be beautiful synergy in working collaboratively with colleagues outside of the Theater Department."

She continued, "Obehi will also meet with students from Intergroup Relations (IGR) as well as with the cast and production team of the forthcoming campus-wide Bias Response Performance Project. I am very grateful to the Theater Department, Intercultural Studies, the Dean of Students Office, the Office of Student Diversity Programs and the Intercultural Center for their sponsorship of this residency."
Obehi's work intersects with the Bias Response Performance Project, an interdisciplinary performance/research project involving faculty, staff and students from various departments across campus including Student Affairs, IGR, American Studies and Theater. While at Georgetown, she wrote and performed the one-woman show suddenly BLACK, at Georgetown. From the founding of the Black House in 1968 to rallies in Red Square, the play weaves through decades and various characters to depict the history of racial discourse on Georgetown's campus. The play is another example of Janice's ability to use theater as a means of engaging a college community in challenging discourse.