Women's lacrosse has great week
April 14, 2014
Women's lacrosse picked up back-to-back wins for the first time this season, knocking off the University of Rochester, 12-8, and holding off RIT, 12-10. The Thoroughbreds (4-8, 3-3 Liberty League) scored four unanswered goals in the second half against the University of Rochester to pull away for the win. Tyler Phillips '17 tallied four goals, Peggy Healy '15 had two goals and an assist and Allison Byrne '17 added a pair of goals. In goal, Allie Sosinsky '14 made seven saves for her third win of the season. The team continued to pile on the goals against RIT, potting seven straight goals in the first half in a key conference win. Phillips was again offensive catalyst, producing six points with four goals and two assists. Emma Harris '16 scored a hat trick and Spencer Morgan '15 tallied twice. Skidmore hosts No. 3 Amherst College at 6 p.m. Tuesday, April 15.
Kevin Mulvey '16
Men's lacrosse scored nine second half goals en route to its first Liberty League victory in an 11-9 win against Clarkson University. Kevin Mulvey '16 paced the offense, producing a season-high seven points with five goals and two assists. Josh Trachtenberg '15 recorded a hat trick and Quinn Hawkins '14 tallied twice and added an assist. Matt Diaco '14 turned away 10 shots to help the Thoroughbreds (4-8, 1-3 Liberty League) secure their third straight win. The team plays at Middlebury College at 4:30 p.m. Tuesday, April 15.
Women's tennis continued its dominant spring, rolling to an 8-1 win against The College of New Jersey. The 14th-ranked Thoroughbreds (13-3) swept doubles play to take a 3-0 lead and never looked back. Lee Ford '14 teamed with Madeline Benn '17 for an 8-1 win at number-one doubles, Rachel Plevinsky '14 and Zoe Valella '15 were 8-4 winners at number-two doubles and Melissa Hirsch '14 and Yumi Karlshoej '15 combined for an 8-4 win at number-three doubles. Ford and Hirsch added three-set wins at number-one and number-two singles, respectively. Benn notched a 6-3, 6-4 win at number-three singles, Valella picked up a 6-2, 6-2 win at number-four singles and Plevinsky cruised to a 6-2, 6-1 win at number-six singles. The team closes out the regular season April 19 at the University of Rochester before traveling to the Liberty League Championships April 25-27.
Men's tennis made quick work of the College of New Jersey with an 8-1 win before battling to a 5-4 win at Stevens Institute of Technology. The 26th-ranked Thoroughbreds (8-6) went 3-0 at doubles against the College of New Jersey and carried the momentum into singles play, going 5-1. Jimmy Sherpa '14 was a 6-3, 7-6 (7-5) winner at number-one singles and partnered with Nick Tong '16 for an 8-5 win at number-one doubles. Against Stevens, Gabe Steerman '14 gutted out a three-set win at number-four singles, 4-6, 7-5, 6-3, and Max Swerdlick '17 added a 6-1, 6-3 win at number-five singles, securing two vital points to lead Skidmore to the win. The team hosts Williams College at 1 p.m. April 19.
Brittany Osborn '17
Softball finished the week at 3-3, splitting its doubleheader with MCLA and sweeping RIT before dropping a pair of games at the University of Rochester. Cassie Fishkin '16 was dominant on the mound in the team's 7-3 win against MCLA, allowing three hits over the final three innings of play in her seventh complete game of the season. May-Lin McEvoy '16 was 2-for-3 at the plate with an RBI, a stolen base and a run scored, and Mackenzie Whiting '16 was 2-3 with an RBI double. The Thoroughbreds (9-13, 3-3 Liberty League) used a pair of seventh-inning rallies to sweep their doubleheader at RIT. Down 4-1 in game one, Brittany Osborn '17 drilled a three-run double in the top of the seventh to a key a six-run rally and the 7-6 win. In the second game, the team piled six runs on seven hits in the top of the seventh in an 8-5 come-from-behind win. Lila Rosenfeld '16 delivered the biggest hit, driving in three runs with a bases-loaded double. Osborn continued strong hitting, going 2-3 with two RBI, and Katie Amo '15 went 2-4 with an RBI. The team welcomes Utica College for a doubleheader at 4 p.m. Tuesday, April 15.
Golf placed sixth at the NYU/Manhattanville Invitational at the par-71 Forest Hills Country Club, shooting 306-308—614. Makenzie Denver '16 earned medalist honors, tying for third with 73-72—145. Teddy Badenausen '17 tied for 19th, shooting 73-79—152 and Mackenzie Nelson '17 tied for 31st with 79-77—156. The team competes at the Palamountain Invitational at McGregor Links this Friday and Saturday, April 18-19, in its final tune-up before taking on RPI April 26 in the Liberty League semifinals.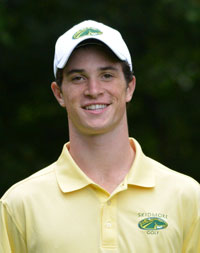 Teddy Badenausen '17
Baseball had a challenging week, being swept at RPI and falling to Vassar College before going 1-3 against RIT. The Thoroughbreds (6-15, 1-9) suffered a pair of losses in extra innings in the first two games against RIT, losing the first game, 2-1, in 10 innings, and dropping game two, 2-1, in nine innings. In the opening game, Kenny Ajello '17 had a solid outing on the mound, pitching five innings and allowing one run on six hits while striking out five. In game two, Jeb Clarke '16 produced the team's lone run with an RBI single in the top of the first. Nick Petrella '15 tossed a complete game two-hitter in game three of the series, leading the team to a 4-1 win in its first conference victory of the season. Petrella retired 18 of the last 20 batters he faced, while Nick Barra '15 went 2-for-3 with a pair of runs scored and Clarke was 2-for-3 with a run scored an RBI. Skidmore makes the short trip to Union for a four-game series April 18-19.
Riding will look to defend its national championship after securing a spot at the IHSA championships with a second-place finish in the Zone 2 Finals. Hannah Reynolds '16 and Jessica Stoukides '16 rode to key wins to help the team secure second. Reynolds was a top finisher in novice fences, while Stoukides earned first in intermediate flat and second in intermediate fences. Ursala Green '16 will also compete individually at the USEF/Cacchione Cup, after placing second in the individual competition, which combines scores from an over the fences phase an a flat phase. The IHSA National Horse Show will take place May 1-4 at the Pennsylvania Farm Show Complex in Harrisburg. ~ By Dan St.-Jacques