'Mission, vision, values'
April 24, 2014
Get the basics right and "people will do amazing things," says David Balter '93, founder of the word-of-mouth pioneer, BzzAgent.

David Balter '93 will always be the guy who — after reading everything he could about the way ideas spread on the Internet — came up with the idea for BzzAgent, the pioneering word-of-mouth marketing firm that The New York Times Magazine spotlighted in a cover story in 2004.
Balter sold BzzAgent in 2011 and so is no longer is involved in his former firm's day-to-day operation. But he still clearly enjoys talking about the ten-year roller-coaster ride he took with the business he launched in 2001. In two presentations moderated last week by Catherine Hill, F. William Harder Professor of Business Administration, he shared his story along with a wealth of entrepreneurial wisdom.
It was after reading Malcolm Gladwell's The Tipping Point — one of the first mainstream books to point out that people share opinions in a way that creates value — that Balter had the epiphany that led to BzzAgent.
"If you could get real people to share those opinions about products and services with other people, you could create value," he said. "The Internet gave us a way to bring together a lot of people and introduce them to new products. We could build a scalable business."
In the dot-com meltdown in 2001, Balter approached 200 venture capitalists and was turned down 200 times. So he decided to start his company the "old-fashioned way," investing $30,000 of his own money and asking clients to pay for services. The core of his new business was a Web site where consumers could sign up to receive free products by pledging to try them and provide feedback and tell friends about products they liked. BzzAgent charged companies a fee for running these word-of-mouth campaigns.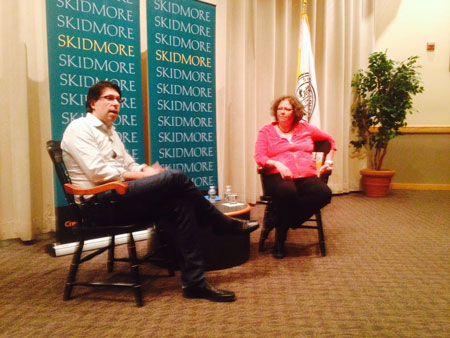 David Balter '93 shared a wealth of entreneurial knowledge in two sessions
facilitated by Catherine Hill, F. William Harder Professor of Business Administration
"At first, lots of people said no. Eventually, some said yes. Once a few people said yes, others figured we must know what we're doing and they said yes, too. Pretty soon, we had a $3 million business."
By the firm's second year, big companies like Anheuser Busch, Lee Jeans and Estée Lauder were signing on. In late 2004, Balter found his company on the cover of The New York Times Magazine. Within a year, his army of "Bzzagent" volunteers doubled from 65,000 to 130,000 and revenues soared.
But in 2009 a "tidal wave" hit — a double-whammy of the Great Recession and competition from social media. Balter suddenly found himself having to explain even to long-time clients why a campaign with BzzAgent was a better way to generate word-of-mouth sales than a Facebook brand page. Revenues cratered. To save the company, Balter's board concluded that they needed to immediately lay off 40 of his 100 employees, after two previous smaller layoffs.
"As challenging as it was to launch the company, it was much harder to watch it fray and to see people quit and stop believing," Balter said. "We had to figure out how to ride this rising wave of social, and then figure out how to put it all together."
He also had to figure out how to change his management style.
"I had started to believe I was untouchable. I let my team put in their two cents but I still expected them to just do what I said. When the business started to fall apart, they told me I could no longer get away with managing that way. It wasn't working. So i did a lot of soul searching. i started listening. I worked hard to be more open. I gave my team the latitude to just do their jobs the best they knew how. I focused on mission, vision, and values."
It worked. By 2010, the company again was profitable — but Balter was too burned out to keep going. After a board meeting that went particularly badly, his chairman Shikhar Ghosh ,said, "You're tired. I think it's time we sell" — and Balter agreed. They soon made a deal with dunnhumby, a big UK-based customer science company (owned by Tesco) that helps retailers and brands improve customer experiences and build loyalty.
As part of the arrangement, Balter took a seat on the firm's Global Executive Team. He now divides his time between dunnhumby and Smarterer, a new Google-financed venture that aims to revolutionize the way organizations do skill assessments.
There's no question Balter prefers building and turning new ideas into reality.
"I'm a start-up guy," he said. "To me there is nothing like taking an idea and turning it into something."
For students who are similarly driven, Balter had a lot of advice to pass along. Here's a sampling:
"As CEO, your job is to increase shareholder value. You carry the vision. You go out and find investors who believe in your vision and you create teams of people to produce on your vision. Mission, vision, values. Get those right and people will do amazing things."
"The best new companies I've seen start organizing themselves long before the market is ready. Your goal is to get everyone to believe in what could be possible. Then, as the market starts to evolve, you're positioned perfectly to take advantage of the trend. The wind is at your back."
"Don't fire people poorly. You meet everyone twice in life."
"Always make friends with your competitors. You never know when one of them is going to be your partner or even your acquirer. You all work in the same industry and you're going to evolve over time. You never know where you'll end up."
"Get a few years of experience before starting your business. You're going to discover what you're good at and what you're not good at. Being managed by others, and learning how organizations work is invaluable. Even if you're only learning from other peoples' mistakes, you'll learn a lot."
"For a business to work, you have to believe one thousand percent that you're right. If you wake up one day and think, 'I'm not so sure there's anything in this,' get out. That's when it's time to find an idea that will inspire you."