Students to brief City Council on hazardous waste collection study
May 5, 2014
Three Skidmore College seniors will report the results of a year-long research project to the Saratoga Springs City Council this Tuesday night, May 6.
As participants in the College's Environmental Studies Capstone research program, Jennifer Garvin, Faith Nicholas, and Lauren Schilling decided last fall to explore the extent to which Saratoga Springs residents are aware of the city's household hazardous waste collection program and the types of items that qualify. So impressed was Commissioner of Public Works Anthony "Skip" Scirocco by the results of their work that he invited the students to present to the entire City Council.
In 2012, about 250 local residents participated in Saratoga Springs' last "Household Hazardous Waste Collection Day" – only about 1 percent of the total 25,000 residents who were eligible. According to a survey of 130 Saratoga Spring residents conducted by the students, only about a quarter were aware of the city's hazardous waste disposal program and nearly half said they did not feel confident in their ability to identify household wastes that would be accepted.
Drawing on the experience of other communities that have achieved higher rates of participation, the students will propose to the City Council approaches that Saratoga Springs might take to do the same, including increased education and outreach initiatives, use of social media, and improvements to the city's household hazardous waste site. They'll also discuss the opportunity to increase participation through creative partnerships with other community organizations and the benefits of offering more collection days or ultimately establishing a permanent facility for disposing hazardous household wastes.
All three students have a long-standing interest in waste streams and ways to mitigate their environmental impacts. Jennifer Garvin has been active for several years in the College's composting effort. Faith Nicholas last spring studied waste streams in India, Senegal and Argentina. Lauren Schilling last year explored a range of waste disposal issues in Tanzania, India, New Zealand and Guatemala.
As part of their project, the students led a two-part program with the "Green Team" at Division Street Elementary School. In their first session, they focused on the importance of watersheds and how to prevent them from becoming polluted. In the second, they showed students how to create environmentally friendly household cleaners, which they then took home along with literature about the Saratoga Springs household hazardous waste collection program.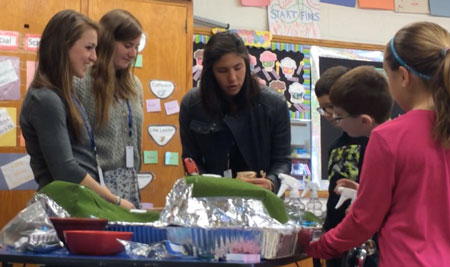 Seniors Faith Nicholas, Jennifer Garvin and Lauren Schilling (from left) explaining to
students at Division Street Elementary School the importance of keeping household
hazardous wastes out of the region's watersheds.

"The best term for the approach taken by these innovative seniors is 'action research,' said Andrew Schneller, visiting assistant professor in environmental studies and the students' advisor on the project. "They have skillfully combined the principles of participatory research, thoughtful planning and evaluation, and shared the results with stakeholders. The City of Saratoga has a real need, and their research has resulted in tangible results and recommendations that hopefully will work to protect both human and environmental health."
The city will offer its next "Household Hazardous Waste Collection Day" in October. If you'd like to safely dispose any of the following items, this will be a great opportunity to do it: pesticides, corrosives, pool chemicals, driveway sealers, hazardous based paints and stains, polishes and waxes, adhesives, solvents, hazardous cleaning products, antifreeze, oil, fluorescent light tubes, compact fluorescent lamps, photography chemicals, liquid latex paint, and products containing mercury.