Skidmore Community Garden seeks volunteers
June 27, 2014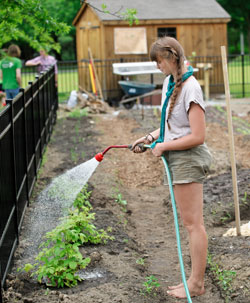 Garden Manager Eliza Hollister '15
Eliza Hollister '15, manager of the Skidmore Community Garden, has announced a schedule of July work parties.
The first work party of the month is from 4:30 to 6 p.m. Tuesday, July 1. Said Eliza, "Come outside to enjoy some great company and to gain and share some gardening experience!" The remaining July workdays are as follows:
--4:40 to 6 p.m. Thursday, July 17
--10 a.m. to noon, Saturday, July 26
--4:30 to 6 p.m. Monday, July 28
Skidmore's Community Garden is located on the green outside of Wiecking Hall. Its goal: to use sustainable practices to grow good food for the Skidmore College community.
The Skidmore Community Garden grows food and also serves as an outdoor classroom, a gathering place, and a tool to educate about sustainability and sustainable food systems. Community members are welcome to help in the garden during the growing season. For updates on Community Garden events, please check the Sustainable Skidmore Facebook page or Tumblr account.