NCAA grant supports new Athletics position
August 1, 2014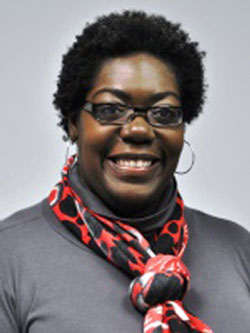 Nekisha N. Quinney
Nekisha N. Quinney of Austin, Texas, has been named assistant director of athletics at Skidmore College, effective Aug. 25, 2014. Quinney comes to Skidmore from Southwestern University in Georgetown, Texas, where she has been coordinator of athletic events and facilities since 2012.
Gail Cummings-Danson, Skidmore's athletics director, announced the appointment, funded by a new grant from the NCAA. "I am excited to welcome Nekisha Quinney as a member of the Skidmore athletics family," said Cummings-Danson. She continued, "Among her many strengths, Nekisha will provide an immediate impact to the coordination of our athletic events and facilities. Her strong background in athletics administration means that students, coaches, and the Skidmore community at large will be well served by her professionalism and knowledge. We are grateful to have received a grant from the NCAA to support this new position and to attract a high-quality pool of applicants."
The NCAA grant, Skidmore's second in nine years, is a Division III Strategic Alliance Matching grant of approximately $105,000 over three years. Designed to help colleges and universities to meet specific needs with new staffing, the funds provide proportional funding within a designated time frame. Skidmore will match the grant with a 25 percent contribution in the first year, increasing to full funding after the third year.
As assistant director of athletics at Skidmore, Quinney will be responsible for home-game and facilities management, promotions that will increase attendance at athletics and facility events, securing sponsors for some department events and supervising or coordinating the department's work-study students. In addition, Cummings-Danson said that working with student-athletes to develop and enhance their leadership skills throughout their Skidmore careers will be another of Quinney's responsibilities.
At Southwestern University Quinney assisted the director and associate director of athletics with facilities management, home athletics events, facility scheduling and special events. She was responsible for game-day management of 20 sports (including game scripting, scheduling student workers, overseeing concession-stand operations and coordinating pep rallies). She managed a staff of 50 students and was liaison to the university's alumni and development offices. She attended the 2014 NCAA Division III Institute for Adminstrative Advancement.
Earlier, as a participant in the D-III NCAA Ethnic Minority and Women's Internship Program housed at Webster University, she was special assistant to Webster's director of athletics. She chaired a committee that established the school's Athletics Hall of Fame and was an advisor to the Student-Athlete Advisory Committee.
Quinney earned a B.S. degree in corporate communications and public relations at Lamar University and an M.S. degree in physical education-sports management at Minnesota State University.