Skidmore offers institute for clean-energy leaders
August 8, 2014
A new six-month program that aims to accelerate the growth of clean-energy businesses in New York State began at Skidmore this week with a six-day residency taught by Skidmore faculty, clean-energy company executives, and agency experts.
Organized by Catherine Hill, F. William Harder Professor of Business Administration, the New York Executive Clean Energy Leadership Institute (NY EXCEL) covers the markets, financial models, permitting requirements, and other unique aspects of the cleantech industry that are key to turning ideas into viable businesses.
Hill calls the program a "boot camp for clean-energy entrepreneurs," focused as much on networking and mentoring as on fundamentals of the clean-energy business.
"Developing your network is essential," Hill says. "The clean energy community in New York State is unique in its willingness to help others. It is passionate about the environment and the deployment of new clean energy technologies."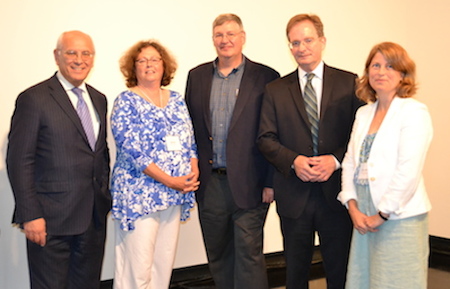 Among clean-energy leaders who delivered remarks at
a reception hosted
earlier this week by the NY EXCEL
program were Congressman Paul Tonko;
Catherine Hill,
NY EXCEL program director;
William Acker, executive
director,
NY-BEST; John Rhodes, president and CEO of NYSERDA, and Anne
Reynolds, executive director, ACE NY.
An attorney who has served as vice chair of the New York Battery and Energy Storage Consortium and on the Advisory Board of iClean, the energy incubator at the College of Nanoscale Science and Engineering, Hill has used her own extensive network to create the institute. She has recruited as faculty people like Chris Covell, president of SmartWatt Energy, an energy efficiency firm based in Ballston Spa. Sharing real-world examples from his company, which serves a national customer base with 250 employees, he discussed demand-side initiatives to reduce energy use in commercial, industrial and institutional facilities.
All participants are required to develop a business plan for a viable cleantech business and pitch it at a three-day session taking place at Skidmore in January. Each also is assigned a mentor who has expertise in the type of cleantech business the participant wants to create.
Such mentorships are a "huge opportunity for hopeful entrepreneurs," says Covell. "The advice of experienced industry experts can be invaluable."
Between now and January, participants will tour major clean tech sites around the state, including Brookhaven National Laboratory and the New York Battery and Energy Storage Test Center (NY-BEST), both of which are program partners. Other partners include the Pace Energy and Climate Center and the Syracuse Center of Excellence.
The institute is supported by the New York State Energy Research and Development Authority (NYSERDA), whose president and CEO John Rhodes joined other clean energy business and agency leaders at a reception hosted earlier this week by NY EXCEL, the Alliance for Clean Energy New York (ACE NY), and the Battery and Energy Storage Technology Consortium (NY-BEST). In addition to Rhodes, those delivering remarks included Congressman Paul Tonko; William Acker, executive director, NY-BEST; and Anne Reynolds, executive director, ACE NY.