Mellon Foundation grant to enhance faculty development
September 8, 2014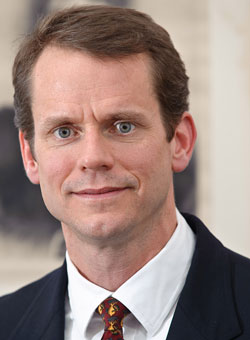 Beau Breslin
(Eric Jenks photo)
Skidmore has received an Andrew W. Mellon Foundation grant of $250,000 to launch the Center for Leadership in Teaching and Learning. The funds, to be used over three years and supplemented with college resources, will support and advance research-based teaching and learning practices, as well as professional development for all members of Skidmore's teaching community.

In announcing the grant, Beau Breslin, dean of the faculty and vice president for academic affairs, said, "Building on existing strengths at the college, the center will serve as a hub that consolidates our many faculty development programs and provides needed resources for adding and enhancing others."
Erica Bastress-Dukehart, associate professor of history, director of faculty development and faculty network facilitator, will be the inaugural director of the center. "Erica possesses a wealth of experience, vision and wisdom," said Breslin. "It is a great privilege to make this appointment." He added, "We are delighted by the grant. The Andrew W. Mellon Foundation provides the greatest foundation support for liberal arts colleges, including the humanities. Their support is inspirational."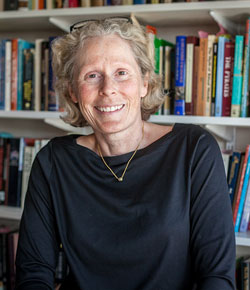 Erica Bastress-Dukehart (Phil Scalia photo)
The center will include a Leadership Institute to provide opportunities for faculty to explore and engage with the broader landscape of the liberal arts and higher education. One program, for example, will be a Futures Forum that will encourage faculty to connect campus-level and national-level issues in higher education, with particular attention to economic issues.
Also created by the grant will be a Collaboration Commons—both a physical space and a concept that supports innovative pedagogies, such as blended courses, integrative strategies for teaching and learning, and collaborations with other education entities such as the New York Six Consortium (a Mellon Foundation-supported group that includes St. Lawrence, Hobart and William Smith, Hamilton, Union, Colgate and Skidmore) and the Central New York Humanities Corridor. A key aspect of the Collaborative Commons will be exploring "place-based pedagogies or multidisciplinary, integrative teaching and learning through the lens of specific localities." Breslin said, "The Mellon Foundation strongly favors collaboration, and we look forward to being able to share best practices for faculty development."
Bastress-Dukehart anticipates that the Leadership Institute will provide many opportunities, especially the chance to include faculty in the conversation about broad issues in higher education. "We need to be aware of the changes that are happening—budget constraints, changing classroom technologies, increased competition, access for students. I am looking forward to asking questions about how these and other issues may affect liberal arts colleges, and I expect many rich conversations involving faculty."
A teacher-scholar who has earned recognition for her interactive pedagogic style, Bastress-Dukehart has collaborated with faculty and students on course content and design. Last spring she taught "The Art of Medieval Warfare," a course developed with the help of 20 students. She favors "integrative learning" because of the cross-disciplinary opportunities it offers both faculty and students. She said the new center will be "a place where this can happen, where faculty can come together and have those kinds of conversations" that will ultimately enrich the educational environment.
She added, "A question I will be asking is how does Skidmore College support good teaching?" Among those who will help answer that question is the center's advisory board—six faculty members who "will be the architects of the center," according to Bastress-Dukehart.
Other aspects of teaching and learning that the new Center for Leadership and Teaching will cover are explorations in cognitive science and related fields to increase understanding of how students learn and how innovations in teaching might build upon that understanding; assessment of new pedagogies; a focus on teaching an increasingly diverse student population; experimentation with blended learning options that incorporate digital technology; and strengthened programming for mid- and late-career faculty, new faculty, and instructors in non-tenure-track positions.
Long active in faculty development, Bastress-Dukehart noted, "There is nothing more important than helping new faculty to settle in." She added, "I love the idea of the Center for Leadership and Teaching. This is good for Skidmore and its faculty. I am hoping that this leads to the creation of a new kind of community."
Said Breslin, "Faculty are the heart and core of the institution. We need to support faculty in a way that allows them the liberty to transform the student experience. I believe that the programs made possible by this Mellon Foundation grant will help that happen."