Skidmore Community Garden party announced
September 15, 2014
The Skidmore Community Garden will host a grand opening party from 5:30 to 7 p.m. Tuesday, Sept. 16, at the garden, located on the Wiecking Hall green.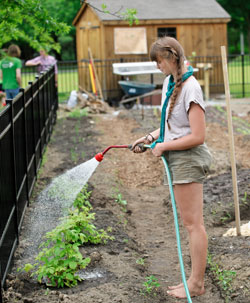 Eliza Hollister '15 at work earlier this summer. (Eric Jenks photo)
Garden manager Eliza Hollister '15 announced, "There will be live music, refreshments, and plenty of time for Q and A and checking out those beautiful veggies you may have seen recently in the dining hall or in that amazing salad at the Founder's Day event. Students, faculty, staff, and community members are all welcome."
In addition to music, food, fun, and information, garden t-shirts will be available for sale.
This is the first year that the garden has been located at the Wiecking site. Hollister said, "The new location has been a source of positive publicity and increased participation from the Skidmore community all around. In past years, work parties were attended by anywhere from one to 10 students, and already at our first work party Sept. 7, nearly 40 students showed up to help out and learn. I've received an impressive amount emails and questions from students, faculty, and staff about ways to get involved, learning opportunities for classes, and how to grow certain crops. It's been beautiful to see the growth of the garden this season, in all senses of the word!"
Approximately 250 pounds of crops have been sold to Dining Services this year, according to Hollister. The growing season has been a good one for most of the crops, although some items, such as peppers and tomatoes, "were a little slow to get going. We're dealing with new soil and an unfamiliar location, so a lot of our planting and seeding has been a bit of a guess and check, but almost everything has produced nicely."
She continued, "Unsurprisingly, our kale has been quite prolific this season. We've already brought at least 15 pounds of kale over to the Dining Hall, and that's just the beginning. Other things like tomatoes and carrots are growing beautifully."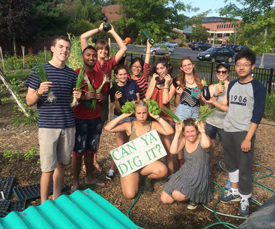 PEAS first-year students at the community garden.
(Silvena Chen photo)
The new location draws visitors, explained Hollister. "One of the most rewarding components of being the garden manager this season has been speaking with the diverse array of people that walk by the garden on a regular basis. I've spent time with young kids at the garden, with professors and students, with prospective students and parents, and with Saratoga Springs community members. Perhaps the most rewarding part of the job is being able to share something so meaningful and beneficial with those who happen to pass by, and give them a peek (and maybe a bite) into what its like to grow your own food."
Some visitors are less welcome than others. Said Hollister, "We did have a family of baby bunnies in the garden at one point earlier in the summer, but they left their nest when they were old enough to live on their own and we haven't seen them since. The only pest problem (other than bugs) we've had has been the Skidmore squirrels! They have a taste for the most perfect and beautiful tomatoes. A nuisance to the garden, but who can blame them?"
A group of very welcome visitors was first-year students participating in the Pre-Orientation Experience for Agricultural Sustainability (PEAS). For several years now, the PEAS program has offered new students a chance to learn more about food justice and agricultural sustainability, and helped them become familiar with Skidmore and the Saratoga Springs area. Hollister said, "We took them to 9 Miles East farm and to Saratoga Apple, both in Schuylerville, and to the Saratoga Springs Farmers Market, after which we cooked a big meal together with veggies bought at the market. We spent a lot of time in the Skidmore Community Garden, tending to the veggies and learning about gardening and farming. It was a blast!"