Historical performance expert David Breitman to present Zankel concert
February 17, 2015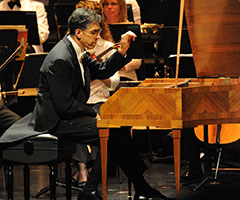 David Breitman
Pianist David Breitman will present a program of music by Mozart, Beethoven, and Franz Schubert when he performs in concert at Skidmore College's Arthur Zankel Music Center at 8 p.m. Thursday, Feb. 19.
Admission is $8 for adults, $5 for senior citizens and the Skidmore community, and free for students and children. For reservations, please visit the Zankel Music Center web site.
According to his web site, Breitman directs the historical performance program at Oberlin College and Conservatory, where he is also an associate professor of historical performance. He is equally at home with the fortepiano and the modern piano, and enjoys both solo and ensemble playing. Recent seasons have included Beethoven's Fourth Concerto and Choral Fantasy on both historical and modern pianos, and several performances at the renowned Cobbe Collection of historical instruments outside of London.
His collaboration with baritone Sanford Sylvan spans more than 30 years, with several hundred recitals and four CDs, ranging from Schubert's Die schöne Müllerin to the premiere recording of The Glass Hammer, a major song cycle by the Cuban-American composer Jorge Martin. He has recorded the Mozart piano-violin sonatas on historical instruments with Jean-François Rivest for Analekta, and, in a collaboration of a different sort, he is one of seven fortepianists on the 10-CD recording of the complete Beethoven piano sonata cycle on CLAVES.
Breitman's most recent projects involve more Beethoven: a recording of the violin sonatas with Elizabeth Wallfisch and the cello sonatas with Jaap ter Linden. He now shares his enthusiasm for this repertoire with students in the course "Performing Beethoven's violin/cello sonatas," and is currently working on a book titled "Time-Travel for Pianists: How Today's Players Can Learn from Yesterday's Instruments."
A graduate of the Massachusetts Institute of Technology, where he earned a bachelor's degree, Breitman holds a master's degree from the New England Conservatory and a doctoral degree from Cornell University. He studied fortepiano with Malcolm Bilson and undertook piano study with Patricia Zander.