Zankel to welcome John Pizzarelli June 13
May 20, 2015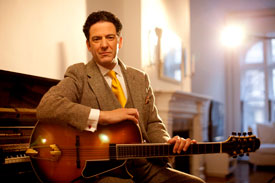 John Pizzarelli
World-renowned jazz guitarist and singer John Pizzarelli brings his quartet to the Skidmore College campus June 13 for a special night of unforgettable music. The performance starts at 8 p.m. Saturday, June 13, in the Arthur Zankel Music Center. Tickets are $45 general admission and $25 for students. To order tickets, please click here.
Pizzarelli has established himself as one of the prime interpreters of the Great American Songbook and beyond, infusing his work with the cool jazz flavor of his guitar technique and vocals. His latest album, Double Exposure (2012), is a collection of tunes by some of the great pop songwriters of his own generation framed squarely within traditional jazz arrangements. Performers include Pizzarelli, vocals/guitar; Martin Pizzarelli, bass; Kevin Kanner, drums; Konrad Paszkudzki, piano.
A guitar player since the age of six, John Pizzarelli followed in in the tradition of his father, Bucky. After playing in pickup groups and garage bands through high school John began exploring jazz with his father and went out on his own after recording My Blue Heaven for Chesky Records in 1990. In 1993 John opened for Frank Sinatra's international tour and then joined in the celebration for Sinatra's 80th birthday at Carnegie Hall, bringing down the house singing "I Don't Know Why I Love You Like I Do" with his father accompanying him.
According to his web site, Nat "King" Cole is John Pizzarelli's hero and the comparison to Cole's iconic trio is the highest of compliments. "I've always said in my concerts that Nat 'King' Cole is why I do what I do," Pizzarelli has said, adding, "We aren't trying to copy him. His sound was singular and inspired. I've always said we're an extension, a 21st-century version of what that group was."
Pizzarelli devoted his RCA albums Dear Mr. Cole and P.S. Mr. Cole to music made famous by the beloved singer. Pizzarelli's catalog of albums also includes a touching cycle of torch ballads (After Hours), a collection of classic swing and bold originals (Our Love is Here to Stay), and a charming holiday disc (Let's Share Christmas). On one of his last projects for RCA, John Pizzarelli Meets the Beatles, he brought classic Beatles songs into the worlds of swing and smoky balladry.
A popular TV commercial for Foxwoods Casino has made Pizzarelli a recognizable face. "In the Northeast, I can see people staring at me on the street. 'The Wonder Of It All' is a great tune," he said of the Don Sebesky-arranged number. In 1997, Pizzarelli made his Broadway debut in the musical Dream, a revue of Johnny Mercer songs.
Pizzarelli signed with the Telarc International label in 1999, recording a string of successful CDs starting with Kisses in the Rain, a diverse set of standards and original tunes that showcases the spontaneity of his live performances within a studio setting, followed by Let There Be Love. Since then, he released The Rare Delight of You (2002), teaming up with veteran pianist George Shearing; and Live at Birdland (2003), which features pianist Ray Kennedy and Martin Pizzaelli, John's bassist brother. The two-CD recording celebrates the 10th anniversary of the John Pizzaelli Trio, and includes music by James Taylor, Gershwin and Van Heusen, along with original Pizzarelli compositions.
In 2004, Pizzarelli introduced a new generation to the distinctive Latin rhythms of Bossa Nova. Produced by Russ Titleman, the critically acclaimed disc features several Brazilian musicians, including drummer Paulo Braga, pianist Cesar Camargo Mariano and vocalist Daniel Jobim. Knowing You, Pizzarelli's 2005 release, pays homage to the many talented musicians and songwriters he's met throughout his career. The disc features material from noted pop and Broadway songwriters Jimmy McHugh, Sammy Cahn, Alan and Marilyn Bergman, Johnny Mandel and Brian Wilson, among others.
In 2006, Telarc introduced Dear Mr. Sinatra, Pizzarelli's tribute CD to "Ol' Blue Eyes," featuring the Clayton-Hamilton Jazz Orchestra. The New York Times praised the recording for "exploding with enthusiasm and excitement."
His 2008 recording, the Grammy-nominated With A Song In My Heart, celebrates the music of legendary composer Richard Rodgers; his 2010 release, Rockin' In Rhythm, is the singer-guitarist's first ever Duke Ellington recording.
Pizzarelli's latest album is Double Exposure (2012), a collection of tunes by some of the great pop songwriters of his own generation that are framed squarely within traditional jazz arrangements. In addition, he appears on several tracks on Paul McCartney's 2012 album, Kisses on the Bottom. He performed with Sir Paul at an iTunes concert at Capitol Records Studios and the two also performed together at the GRAMMY Awards in Los Angeles.
A veteran radio personality, Pizzarelli hosted "New York Tonight" on WNEW from 1984 to 1988. John has also successfully launched "Radio Deluxe with John Pizzarelli," a nationally syndicated radio program co-hosted with his wife, Broadway star Jessica Molaskey. (The program is heard locally on WAMC-FM.) Bringing warmth, humor and a "live" feel back to radio, the show takes place in their "deluxe living room high atop Lexington Avenue" and the conversations are relaxed, candid, and off-the-cuff, as is the music. He has interviewed a wide range of guests, ranging from Liza Minnelli, Mitch Albom and Regis Philbin to Kurt Elling, Annie Ross and Keely Smith. The show is available globally as a podcast at Pizzarelli's web site and via iTunes.