College prep leg-up
April 18, 2016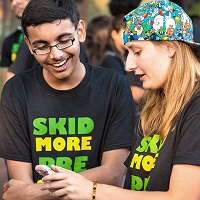 Talented but underserved high school students from New York City can attend five-week summer residencies at Skidmore, thanks to a three-year, $300,000 grant from the Teagle Foundation's College-Community Connections program. The funds will support Skidmore's partnership, now eight years old, with Sponsors for Educational Opportunity, a New York City-based initiative that provides motivated, low-income, urban students, from ninth grade through college, with year-round, one-to-one mentoring, classroom instruction, educational resources, and experiences that enhance their readiness for long-term academic success. At Skidmore, the SEO partnership has focused on the long-running Pre-College Program in the Liberal and Studio Arts.
The Teagle grant will augment the Pre-College Program's own financial aid and will promote the integration of "near-peer" mentoring of participants by college students, inclusive community-building, and faculty workshops on how best to teach diverse high schoolers alongside college students.

In thanking the Teagle Foundation, Michelle Paquette-Deuel, director of the Pre-College Program, cited the opportunity to build on partnerships with SEO and Teagle "to provide high-achieving students the opportunity to study at Skidmore and prepare for college success, while supporting Skidmore's commitment to increasing access to higher education."

The Pre-College Program selects each summer's students through a rigorous application process. Students earn undergraduate credits for two courses chosen from the humanities, social and natural sciences, and studio arts. They also live with peers in a supervised college residence hall. They engage with Skidmore admissions and academic advisors, perform community service, and attend lectures, films, concerts, and exhibitions in a condensed term designed to reflect the full array of college life.

Expectations are high and the track record is impressive: since 2009, 83 SEO students have enrolled in the Pre-College Program and all have successfully completed it. Another sign of success is that several participants have gone on to attend Skidmore as regular college students.

Applications for this summer are still open; details are here.