Pirate's gold
June 8, 2016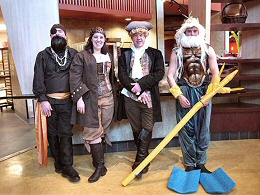 Chicken Finger Friday is always a favorite dining hall event. But students also give high marks to theme dinners—from Alice in Wonderland to Game of Thrones—created for them by the dining and catering staffs. This spring's Pirates and Mermaids dinner brought national accolades as well, winning a gold medal for residential-dining special events in the 2016 Horton Dining Awards held by the National Association of College & University Food Services.
Students entering Murray-Aikins Dining Hall for the dinner were greeted by a live mermaid and face-painting pirates, as well as sandcastles, a bioluminescent room and an "anti-scurvy" bar, created by Honors Forum students (the event was a nod to a popular course about Captain Cook's seafaring history). Around the dining area hung paintings of mermaids, maps, octopi, and shipwrecks.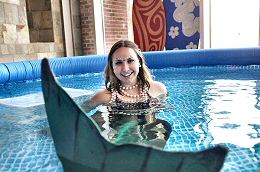 Menu options included coffee-brined pork, rum-glazed flank steak, fried calamari, mahi-mahi tacos, minted shrimp and orzo salad and a marsh bar that represented both land and sea. Among the gluten-free and vegetarian options were bang bang tofu and yucca wedges. For dessert, tropical mocktails complemented the key lime pie and pineapple upside-down cake.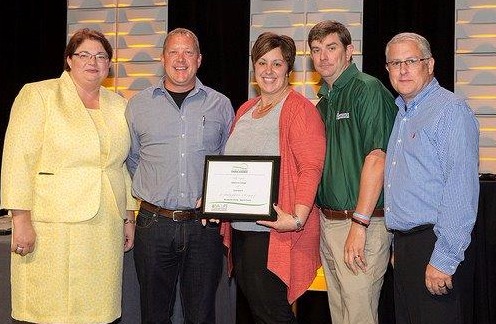 Staff and student dining-hall workers joined the celebration by dressing up as seafarers of every stripe and then, as usual, donating all servable leftovers to the student Feedmore club for delivery to local shelters.
Skidmore's winning entry will be on display during the national NACUFS conference in Anaheim, Calif., from July 13 to 16 and the winners recognized at the luncheon on July 16.