2020 Vision
September 4, 2016
Skidmore College welcomes the Class of 2020.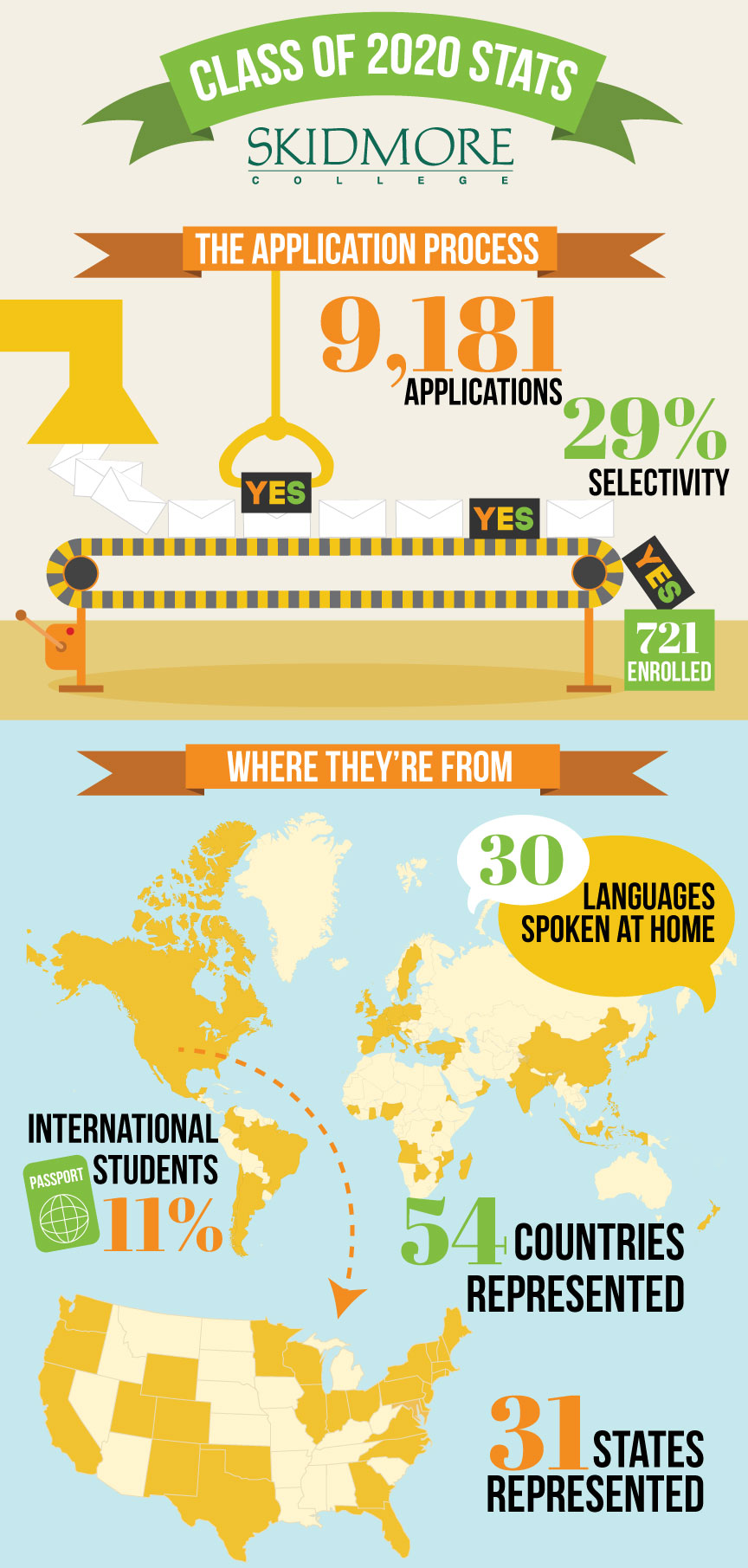 Adam Nash '20 knows what it's like to be first. The first-year Skidmore student is the first member of his family to attend college or to seriously venture abroad and the first in his sixth form (the final two years of high school in the UK) to even consider applying to an American college.
Nash, who hails from Stoke-on-Trent in England's West Midlands, along with two other first-generation college students from Scotland, Maria McAveety '20 and Robyn Pattison '20, came to Skidmore's attention through the Sutton Trust, a London-based higher education access program. Nash plans to major in physics, perhaps minor in math or geography, an
d hopefully study abroad.
The UK trio joins Skidmore's Class of 2020—719 students in all from 31 states and 54 countries, selected from a record applicant pool of nearly 9,200. Other 2020 stats include the following:
60% attended public or charter high schools
59% are women, 41% men
49% applied and were accepted Early Decision
24% self-identified as domestic students of color
11% are international students, with an additional 7% carrying dual passports
15% are first-generation college students
In terms of getting a jump on their Skidmore experience, 37 members of the Class of 2020 arrived on campus for an August 22–24 pre-orientation before jetting overseas to spend their first semester in the First-Year Experience in London Program. Seventy of the 88 new international students, including the most UWC Davis scholars in school history and a record three Swedes, arrived August 28 for International Pre-Orientation. And 383 first-year students arrived September 1 to engage in a wide array of pre-orientation programs, ranging from hiking/backpacking, to creating sculpture, to doing community service. The remaining 299 members of the Class of 2020 arrived September 4 in time for Opening Convocation, as did 29 transfer students.
In choosing FYE London, New York City native Jeremy Brown-Adams '20 took full advantage of the fact that his sister was already a Skidmore student. Her friends told her that the experience was one of the "greatest things they'd done in their lives." As Brown-Adams says, "There were just so many superlatives. I knew I had to do it, too." Meanwhile, Baltimorean CJ Seim '20, who applied Early Decision to Skidmore, says she chose London because "I want to become a global citizen since that's how the world is."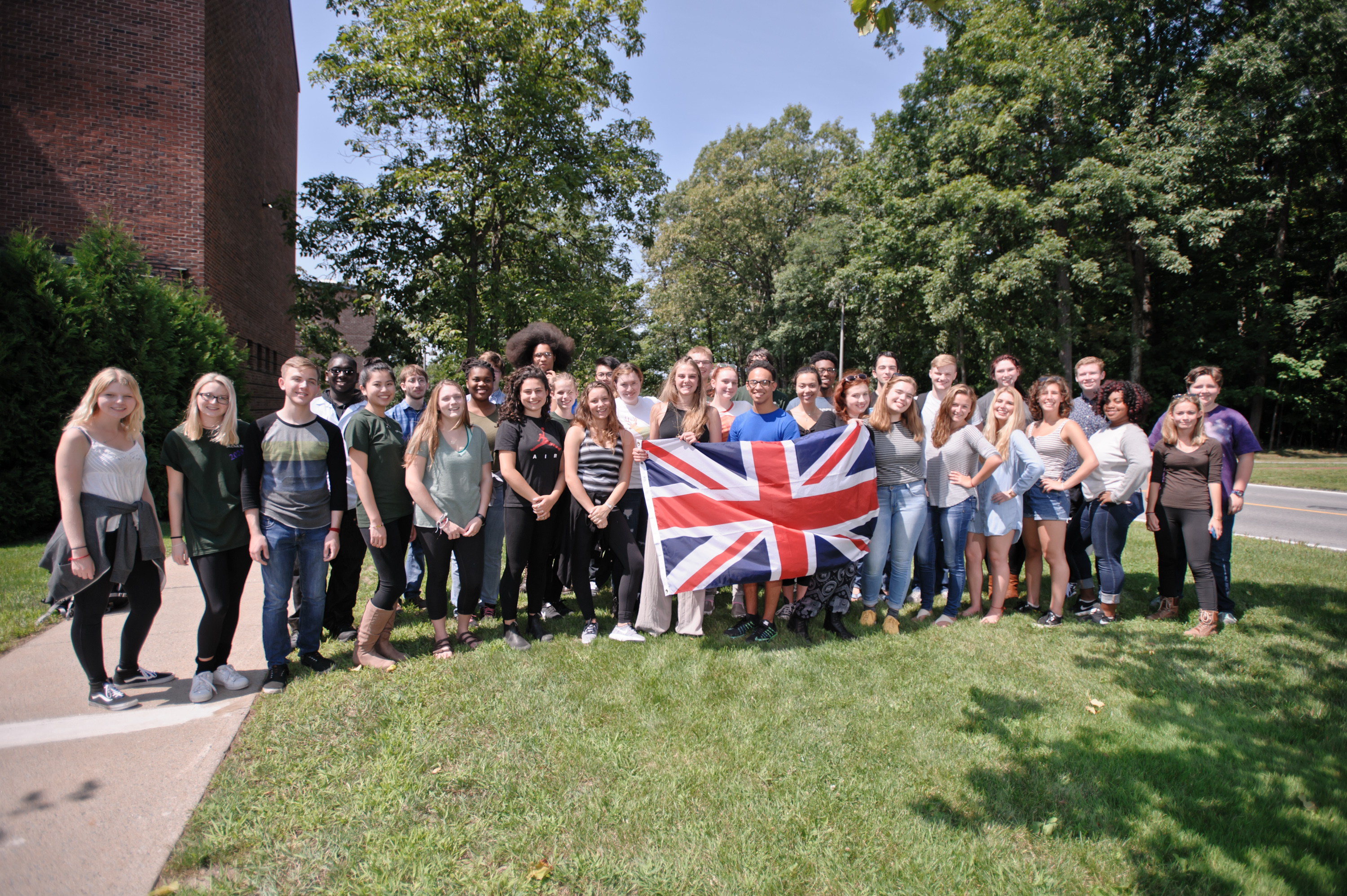 Members of the class of 2020 will spend their first semester in the First-Year Experience in London Program.
(Photo by Eric Jenks '08.)
One of the highlights of International Pre-Orientation is a traditional day trip, which started in 2007 as a humble hike in the Adirondacks. With a near-tripling in first-year international students, says Darren Drabek, coordinator of International Student and Scholar Services, the group must now split among three mountains, hiking to the summit of Buck, Sleeping Beauty, or Shelving Rock to take in the spectacular views of Lake George. Fifteen mentors, a mix of returning international students and Americans who studied abroad, helped guide students through the pre-orientation activities.
International Student Pre-orientation concludes with a Lake George hiking trip.
Beyond the numbers is the wide range of experiences, backgrounds, and talents that the Class of 2020 brings to the Skidmore community. Here are a few tidbits:
Volunteer work ranging from protecting trout habitats, caring for wolves at a sanctuary in Colorado, and rehabilitating monkeysin South Africa to domestic-abuse shelters, Ivan Lendl's adaptive sports camp, and the Syrian Red Crescent Program.
Languages: 21% speak a language other than English at home, including Bengali, Arabic, Fulani, Georgian, and Cantonese.
A student who has lived in Nigeria, the Netherlands, France, England, South Africa, the UAE, and the U.S.
Work as beekeepers, farmers, deck boss on a fishing vessel, leather smith, beach fry cook, busker in Scotland, and commercial bakers.
Top-ranked U.S. Scrabble player; performances in Carnegie Hall, Lincoln Center, and Radio City Music Hall; competitor in Norway's Birkenbeiner Ski Marathon; and confirmation by Pope Francis.
Now, all the '20 classmates start an exciting new chapter.
Skidmore College Class of 2020. (Photo by Eric Jenks '08.)

Even Adam Nash is ready to go. Says Nash shortly after his international pre-orientation had come to a close, "I was worried that it would be hard at first to communicate with people from so many new places because I'm a bit shy. However, everything has been great and I have made so many friends because everybody here is really open and willing to talk with you."
Check out photos from move-in weekend below. (All photos by Eric Jenks '08.)