Inside immigration and identity
September 27, 2016
Pulitzer winner Jose Antonio Vargas—director of White People and Documented—will discuss immigration and identity at Skidmore on Sept. 28.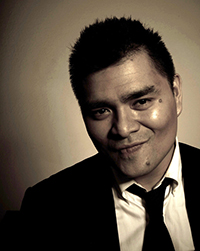 Jose Antonio Vargas
(photo by Gerry Salva Cruz)
Vargas is the founder of Define American, a media and culture nonprofit that works to elevate the conversation around immigration and citizenship in America. In 2011 the New York Times Magazine published a groundbreaking essay in which he revealed and chronicled his life in America as an undocumented immigrant. A year later, he wrote a follow-up story for Time, appearing on its cover with fellow undocumented immigrants.
His Documented premiered in 2013, appeared theatrically and on CNN in 2014, and was nominated for a 2015 NAACP Image Award nomination. Also in 2015 his White People aired on MTV as part of its "Look Different" campaign. In 2016 Vargas launched #EmergingUS, a multimedia news platform focusing on race, immigration, and multiculturalism.
The Skidmore lecture begins at 7 p.m. on Wednesday, Sept. 28, in the Tang Museum's Wachenheim Gallery; it is free and public.
Vargas was invited to campus by the student-run Speakers Bureau, with co-sponsorship from the political science and Latin American studies programs. His talk is also part of the Tang Museum's A More Perfect Union exhibition. Noting "the centrality of immigration to the 2016 presidential election,""Bob Turner of the political science faculty says, "There is no better speaker to talk about the question 'What does being American mean?' than Jose Antonio Vargas."