Strands of storytelling
October 21, 2016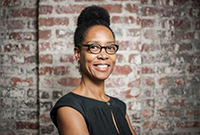 Raab Visiting Artist Sonya Clark
"I gained an appreciation for craft and the value of the handmade primarily from my maternal grandmother, who was a professional tailor," Sonya Clark has written. "Many of my family members taught me the value of a well-told story, and so it is that I value the stories held in objects." This year's Rosanne Brody Raab '55 Visiting Artist at Skidmore, Clark will present a free, public lecture Tuesday, Oct. 25, at 6 p.m. in the Tang Museum's Payne Room.
Hair Chair
(2012) by fiber artist Sonya Clark


An artist concerned with issues of race, culture, class, and history, Clark is perhaps best known for her "Hair Craft" project, which has included her own head of hair styled by various hairdressers, photographed, and worn for a week. As the Boston Globe noted, the project elevates "the ephemeral, everyday work of stylists" in a sort of "community-based performance art . . . that celebrates African-American hair." Clark creates work in a range of fibers, as well as beads, combs, and other materials. A Detroit Free Press critic cited "her sensitive, boldly imaginative eye" and mentioned that she often finds inspiration in the traditions of the textile and hair designs of the African diaspora.

Clark has earned a Smithsonian artist's fellowship, a Rockefeller Foundation Bellagio Fellowship in Italy, a Red Gate Residency in China, an Australian National University residency, and other grants and awards. Her work is in the collections of major museums around the US and abroad. Currently chair of the Craft and Material Studies Department at Virginia Commonwealth University, she holds a B.F.A. from the Art Institute of Chicago and an M.F.A. from Cranbrook Academy.
The Raab Visiting Artist Lecture is sponsored by Rosanne Brody Raab '55 and Skidmore's Department of Art.