Headscarves and burkinis
October 24, 2016
At offices, schools, and beaches, women in "Muslim" clothing are stirring controversy. A student and faculty panel will discuss the issue—and what it means for cultural expressions in pluralistic societies—Thursday, Oct. 27, at 6 p.m. in the Tang Museum.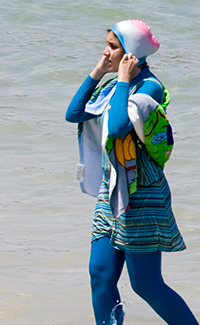 Burkini beachwear
"From Headscarf Hysteria to Burkini Ban" will bring together professors Nurcan Atalan-Helicke (environmental studies), Murat Yildiz (history), Adrienne Zuerner (French), and panel coordinator Pushkala Prasad (management and business) with sociology major Rula Issa '17.
Among the inspirations for the event is the recent French attempt to ban the burkini on the nation's beaches in the name of protecting not only secularism but women's empowerment. Prasad says the Skidmore panel will focus on "unpacking the motives and meanings behind efforts to regulate forms of female attire that are regarded as Islamic attempts to disempower women." The group will discuss various laws and policies and also address "the nature of secularism, the legitimacy of cultural freedoms, and women's empowerment."
Free and open to the public, the discussion is part of A More Perfect Unionat the Tang Museum.