Creative drama on stage
November 28, 2016
The playwright's instructions for The Orphan Sea include: Open casting. Fluid set. Dance, music and digital media.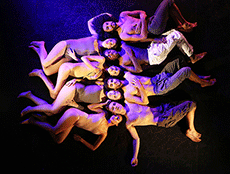 An
Orphan Sea
tableau
This adaptable, somewhat self-creating play by Obie-winning dramatist Caridad Svich involves "Greek choruses" of actors presenting a poetic epic that draws on archetypes, dreams, and shared human experience across the centuries and across the globe. Roughly shaped around Odysseus and his fabulous voyage home to his patient wife Penelope, but staged with video, music, and a distinctly modern visual aesthetic, The Orphan Sea opens at Skidmore on Wednesday, Nov. 30, in Bernhard Theater's Black Box space. It runs through Tuesday, Dec. 6, with show times at 8 p.m. each weekday, 2 and 8 p.m. on Saturday, and 2 p.m. only on Sunday. Tickets are $12 ($8 for students and seniors); call 518-580-5439 or email the box office.
Svich herself will be on campus for the Thursday performance and will engage in conversation with the audience afterward.
Director Eunice Ferreira, of Skidmore's theater faculty, is pleased to be premiering a multilingual version of the play that she and the cast developed during the rehearsal process. "It's been exciting to work with the 17 student cast members and the creative production team," she says. "Among us, we speak 10 different languages!" She was grateful that Svich supported her vision early on, so she had time to work with the World Languages and Literatures Department and student clubs to invite a wide range of students from different academic and cultural circles to audition for parts in the play.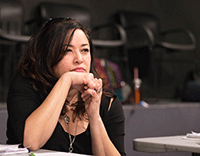 Prof. Eunice Ferreira
The daughter of Cape Verdean parents, Ferreira says stories of people who leave and people who wait are very much a part of the historical and cultural narrative of her heritage. The Orphan Sea's ancient story of migration, she told a student interviewer, is also "the very contemporary story of border crossing . . . leaving your place of origin, settling in a new community" and "perhaps never going back to your homeland, and the grief of that." Much of Ferreira's teaching and scholarship also addresses global identities and cultures—all of which made The Orphan Sea a particularly intriguing project for her.