Blossoming on Wall Street
December 8, 2016
Three years ago, former Thoroughbred Melvis Langyintuo '12 was playing hoops during a campus visit and happened to meet Thabang Maphothoane '17 as a new freshman. Their casual introduction soon brought them together at one of the top financial institutions in the world.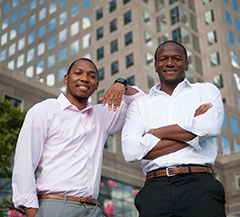 Thabang Maphothoane '17 and Melvis
Langyintuo '12 as Wall Street colleagues
(Photo by Charlie Samuels)
"Thabang reminded me of myself in college," says Langyintuo, who comes from Kenya. "He was interested in student government, and I had been class president at Skidmore. As we talked, I sensed that he needed support and guidance. I said I was open to helping out, and he was proactive enough to reach out."
The two started talking about coursework, with Langyintuo giving advice and posing questions. "Where do you see yourself in five years?" he would ask. Maphothoane from South Africa, says, "Melvis was always challenging me, prodding me, posing those kinds of questions."
Langyintuo, a global macro trader at Goldman Sachs, helped Maphothoane recognize his computer science and math majors as advantages in the financial industry. Langyintuo shared his mentee's resume with the Goldman internship division and even coached the nervous Maphothoane during a late-night call before the interview.
In the summer of 2016, Maphothoane wrapped up his second internship at Goldman, analyzing algorithms on suspicious trades. And he began his senior year knowing that his much-admired mentor still plays a critical role in his future. For him, "Isaac Newton summed it up when he said, 'If I have seen further, it is by standing upon the shoulders of giants.'"
Langyintuo encourages other alumni to get involved in mentoring Skidmore students, calling it a rewarding experience for the mentor as well as the mentee. He says, "I feel happy giving a student candid advice and guidance on achieving his goals. I'm also giving back to my college, where the community came together to launch me on an incredible career trajectory." Like a soaring three-pointer. —Jon Wurtmann ֹ'78