Eclectic dance recitals
December 9, 2016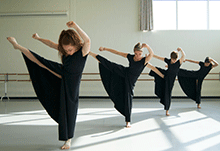 Past Skidmore dance students in rehearsal
(by Nghia Luu '14)
The Dance Department offers a range of live dance as well as a film in its end-of-semester presentations this Friday, Dec. 9, at 8 p.m. and also Saturday Dec. 10, at 2 and 8 p.m. in the Dance Theater.
The show will feature Martha Graham's iconic "Steps in the Street" (from the 1936 Chronicle), a response to the menace of rising fascism in Europe. It has been reconstructed and restaged for Skidmore's student dancers by Susan Kikuchi from the Martha Graham Center of Contemporary Dance and is directed by Skidmore faculty member Mary Harney.
In another ambitious undertaking, New York City's Brian Reeder, formerly with William Forsythe and now much in demand as a choreographer, teamed up with Skidmore graduate Chris Limoli '09, a Dubstep producer and DJ. Together they created a new work in contemporary ballet.
Dance faculty member Erika Pujic will perform "Jewel Lost," the first solo that Robert Battle choreographed for her while they were students at Juilliard. The piece is a moving portrait of grief after the death of a parent. A new work by dance professor Debra Fernandez will include an animated film made by Madison Plummer '17. And a colorful new piece by Pujic will round out the evening.
Tickets can be purchased in advance here—click on "buy tickets now"—or at the box office starting 45 minutes before each performance.