Love and death--and race
December 12, 2016
From the New York Times to Vogue to National Public Radio, everyone's talking about the posthumous story collection Whatever Happened to Interracial Love? The collection of stories by filmmaker and writer Kathleen Conwell Collins '63 was compiled by her daughter Nina Lorez Collins, who told the New York Times, "When I think back, the dominant sounds of my childhood are of my mother's IBM Selectric II clattering away behind her bedroom door; film swishing through the Steenbeck editing machine that sat in our dining room; and, occasionally, Tina Turner blaring from the stereo while she danced like a madwoman in the living room."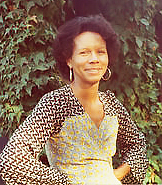 Kathleen Collins '63
Majoring in philosophy at Skidmore, Kathleen Collins went onto earn a master's in French literature from the Sorbonne in Paris. Though she died of breast cancer in 1988, at age 46, her career included being one of the first black women to direct a feature-length movie. That 1982 film, Losing Ground, was screened by Nina for her mother's 50th-reunion classmates at Skidmore in 2013, and its first major public release drew sold-out crowds at Lincoln Center in 2015. Collins also wrote plays such as In the Midnight Hour and The Brothers. She was a professor of film history at New York's City College. In the 1960s she had worked (and been arrested twice) with the Student Nonviolent Coordinating Committee, registering black voters in the South.
In an NPR interview, her daughter said she wanted to publish the stories for the public but also for the insights they provided into her mother's brief and complex existence: "For me, they were this incredible gift into my mother's life, which I felt I had so many questions about."
Exploring the literary world, American blackness, race relations, love, marriage, and politics, the collection is one of the Publisher's Weekly Best Books of the Year for 2016. The stories have been called "sensitive and sharp" as well as "humorous, poignant, perceptive, and full of grace." In the title story, for instance, Collins writes, "We are swimming along in the mythical underbelly of America ... where it is soft and prickly, where you may rub your nose against the grainy sands of illusion and come up bleeding."
Nina Collins told NPR that while the experience was bittersweet, "I'm so glad her voice is out there for people to enjoy and learn from."