New courses for new media
December 22, 2016
"Collaboration, innovation, and storytelling are at the heart of the John B. Moore Documentary Studies Collaborative," says MDOCS director Jordana Dym, a history professor. And this past fall, new courses both grew from and led to "some amazing collaborations."
Professional and leadership skills
Script and shooting coordination
(Photos by Wilson Espinal '17)
In the "Story to Screen" course, cotaught by Vickie Riley and Nicole Coady, "Each student registered for a specific role on a film—writing/directing, sound design, or cinematography—with a focus on supporting the story and crew with their particular craft while combining knowledge from previous classes," explains Riley. "We saw raw talent, commitment, and rising to a challenge," she says, "whether a crew was casting actors from the Theater Department and community, scouting locations, or rescheduling for uncooperative weather. This class was challenging, time consuming, and, in the end, very rewarding."
Since the Project VIS lab opened its doors in 2014, Eli Ruben '17 has supported students and faculty as they develop video projects. This fall he piloted a 1-credit introduction to filming and editing in which Dym helped students find approaches to discouraging sexual and gender-based misconduct that could be conveyed in four videos for Skidmore's Health and Wellness Center.
Learning about the history and challenges of festival organizing with longtime programmer Tom Yoshikami, students evaluated two local film festivals (15 Minutes Max at Saint Rose College and the new Saratoga Springs International Film Festival) as well as DOC NYC. The course also drew up a plan for a spring follow-on course to recruit and evaluate student-produced programming for Skidmore's own MDOCS Festosium next summer.
Ivory tower and beyond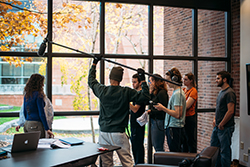 Teamwork for capturing audio
Olivia Fidler '19 found a story worth telling in American poet Chase Twichell's "Sad Song." It had been published in the Skidmore-based Salmagundi journal, and, pulling it from those archives, she created an audio story for "Multimedia Storytelling," a first-time course offered by Marc Woodworth '84, Salmagundi's associate editor, together with Ron Taylor of Media Services.
Students in Eileen McAdam's interviewing course headed downtown to develop oral histories exploring the origins and impact of Saratoga's annual Dance Flurry and the city's Beekman Street Arts District, with the audio interviews collected for the Skidmore-Saratoga Memory Project.
MDOCS also supported musicologist Liz Macy's course "Blues and African-American Musical Heritage" with research, poster design, and more by Michael Chang '17 for an exhibition marking the 150th birthday of Harry T. Burleigh, a renowned scholar of African-American spirituals. The display became part of the Memory Project.
Crossing boundaries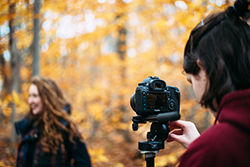 Location shooting in Skidmore's woods
Students in "Advanced Audio/Multimedia Documentary" edited clips from Skidmore's North Woods oral history archive developed in a summer collaboration between Adam Tinkle, a faculty member in MDOCS and the film and media studies minor, and Emily Rizzo '17. Tinkle explains that each clip matches "a listening location in the North Woods, making the history, science, and stories of the woods available through Detour, a much buzzed-about locative audio app for which I am a beta tester." His students also worked with students in artist Sarah Sweeney's "Motion Graphics and Animation" class, creating audio documentaries to spark imaginative visuals.
Coming soon: after visualizing space in 360 degrees with a Go-Pro camera rig, students interested in virtual reality will pursue a spring-semester course to start VR coding with the Unity game-design software.
(Photos by Wilson Espinal '17)