Coming home
January 17, 2017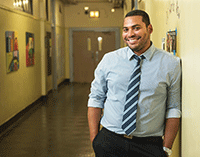 De Jesus '09, on the job
After spending his early years in his Dominican grandfather's rice fields and not in school, Juan De Jesus entered sixth grade in New York City without proper preparation or English skills. Of course he did poorly and lost interest. But when a counselor from CollegeBound Initiative began mentoring him, his life turned around. His love of chess inspired him to study so he could qualify for the school chess team.
When he graduated, he swore to himself that he'd leave the Bronx and never return. He enrolled at Skidmore through its acclaimed Opportunity Program, and at Commencement 2009 he was so grateful for his professors and other mentors who helped him that he realized, "I can't live with myself if I don't go back and do the same for others."
He earned a master's in education, and today he's a special-education teacher at his old South Bronx high school. Recently he was named a Robin Hood Foundation 2016 hero [view video] and was featured in CNN Money and other media.