Freirich finalists
March 3, 2017
The nail-biting was intense and the judges needed lengthy deliberation to choose finalists in the first round of this year's Kenneth A. Freirich '90 Business Plan Competition. Roy Rotheim, economics professor and contest coordinator, said the decision was difficult "because the quality of each of the business plans and presentations was exemplary."
Freirich himself was on hand for the event and joined the judges' panel to help select the finalists. Each judge chose a finalist to mentor toward the April round, when a new judging panel will determine which teams will share more than $60,000 in cash and services to develop their businesses.
Judges Juneau, Wootten, and Toohey applaud a pitch.
The 2017 finalists are:
Trovi International. Hadley Haselmann '17 is working with alumni Eli Johnston '14 and Josh Chacko '16 on an app to help backpackers find global destinations where they can learn rural skills, arts, practices and customs. They say Trovi aims to foster "a sustainable tourism ecosystem" that provides travelers with meaningful cultural exchange while boosting incomes for hosts and their home communities. It aims to launch in Bali, Indonesia, a tourist hotspot that still has very rural villages. As the developers put it, "Trovi believes in a world where travel is defined by local engagement and meaningful exploration."
Trovi's mentor is Linda Toohey, longtime executive of the Saratoga County Chamber of Commerce, former publisher of the Saratogian newspaper and past chair of Skidmore's Board of Trustees.
Izaak Cohen '20 of Z's
Z's. The legal marijuana industry in America is doubling in size every 18 months, says Izaak Cohen '20, and he wants to provide top-quality rolling papers and other luxury smoking accessories. Spending much of his gap year before starting at Skidmore as an apprentice to his brother's fine leather-goods enterprise, he says he learned about lifestyle brands, fashion and business—and came up with the idea for Z's. Along with elegant, top-quality papers, Z's plans to market storage pods, brass tamps, trays and more.
Z's mentor is Gregg Smith '92, an independent venture investor and the chief innovation officer for Edison Nation, which links inventors with investors and produces the Emmy-winning PBS show Everyday Edisons.
Auxnation's Zack Jones '18
Auxnation. DJs know how it goes: you craft your set list and start playing, and then the audience requests a song you didn't put in your queue. Zack Jones, Dhruv Singh, Noam Kahn and Themba Shongwe have an app for that. The Class of '18 partners started Auxnation to help partygoers vote for their favorite songs, either ahead of time so that DJs can plan to include them, or at the event, where DJs can let the top requests be inserted into their playlists in real time. As the developers say, AuxNation's promise is to integrate the audience as part of the show.
Mentoring Auxnation is Brendan Wootten, P '20, managing director at Goldman Sachs, whose business-building experience includes establishing portfolio trading desks at Donaldson, Lufkin & Jenrette and Thomas Weisel Partners.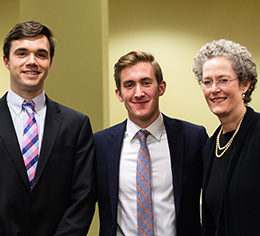 Nick Henning '19 and Ian Carter '19 with
mentor Chris Juneau '82 of Music Match
Music Match. Easy and affordable music lessons could be a click away. Music Match uses online video chats for at-home, private lessons from nonprofessional but well-vetted musicians. Ian Carter '19 and Nick Henning '19, having taken and given music lessons for years, want to match would-be learners with unintimidating instructors while also helping young, devoted musicians serve more students. They will use "talented musician friends on campuses across the country" to help them recruit teachers, each of whom will have a profile for students to view.
Mentor Christine Juneau '82, P '18,is an independent advisor helping business leaders tie strategic goals to execution and achievement of results. She spent 20 years leading the John S. Herold research firm and the IHS Inc. business and technical expertise provider.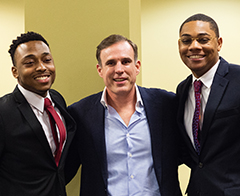 Nigel Smith '19, mentor Raymond Bryan, and
Sam Evans of Melange
Melange. Nigel Smith '19 and hometown friend Samuel Evans sought to heal political and social divisions through a "unity company." The duo founded Melange to market casual, active and sportswear that reaches across cultural and racial divides, uniting individuals under the common umbrella of fashion. They also plan to bring their brand to diversity conferences and even to organize and present diversity programming.
Mentor Raymond Bryan, a financial and wealth-management advisor with Janney Montgom­ery Scott, is also a board leader for the Adult and Senior Center of Sarato­ga and for the Exchange/Orchard Project, supporting innovative artists around the world.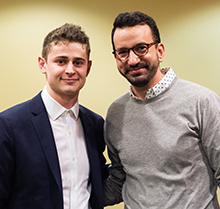 Weston Stewart-Tennes '17 and mentor
Tal Cjitayat '03 putting Fries First
Fries First. Weston Stewart-Tennes '17 believes that as popular as French fries are, they have even more potential. Noting the rise of poutine and carne asada fries, he plans to test new recipes at music festivals, farmers' markets and college campuses and eventually open restaurants. His survey data shows that "the market for this product is clearly there, as the millennial generation has shown a keen interest in both the fast-casual space and anything french-fry-related." Los Angeles is his first target market.
Mentor Tal Chitayat '03 is co-founder and CEO of Full Circle Home, whose storage, cleaning and other products are designed for style, function and sustainability. He has expertise in product development, supply chain management and manufactur­ing.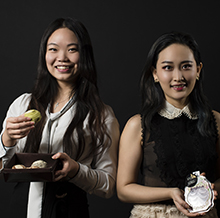 Yuelin He '19 and Danning Ma '17 of
Halo Venus
Halo Venus. Danning Ma '17 and Yuelin He '19 are combining fine cosmetics and premium desserts into one brand. Halo Venus already has its own false-eyelash brand, designed for the thriving market of East Asian students on U.S. campuses as well as for consumers in China. The founders plan to expand their "diverse beauties" concept to a range of cosmetic products and snacks "with an Asian aesthetic." Their bilingual online firm is based in Saratoga Springs and Shenzhen, China.
Mentor Kathryn Peper '78 is an internist who has taught and practiced medicine at Yale University, Lenox Hill Hospital and elsewhere. She now operates her own practice in patient-centered healing. Both her daughters are business founders as well.
Graham Gilmore '18 and Kind Cultures
Kind Cultures. Graham Gilmore '18 brews kombucha, a fermented tea acclaimed for its health benefits. Working with his brother, he developed a fermentation method based on local raw honey, "unlocking flavor potential that our competitors cannot match" and adding the honey's own healthy enzymes and probiotics. He says his target consumers "are open to new experience and deeply care about what they put in their bodies." Along with the drink, he plans to market a kombucha vinegar flavored with peach juice and aged in bourbon barrels.
Kind Cultures' mentor is Nancy Wekselbaum '73, founder and owner of the Gracious Gourmet. Launched in 2006, the small-batch specialty condiment maker now sells more than 23 products globally.

All are welcome to watch these teams compete in the final round, April 7, upstairs in Skidmore's Murray-Aikins Dining Hall. As Freirich says, "There's nothing more rewarding than watching these amazingly talented and creative Skidmore students take on the biggest challenges of their lives and succeed."