Food and culture startups win big in business competition
April 16, 2017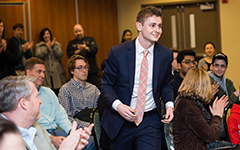 Weston Stewart-Tennes '17 gets the call.
Fries First, developed by Weston Stewart-Tennes '17, won the top award of $20,000 in cash and legal services with its forward-looking, sauced-up take on French fries. Halo Venus, conceived by Yuelin He '19 and Danning Ma '17, was second ($10,000 and legal services) for its line of Asian-inspired baked goods and other products. Music Match, run by Ian Carter '19 and Nicholas Henning '19, finished third ($5,000) for its comprehensive services in online private music lessons. The Global Exchange Project of Hadley Haselman '17 captured fourth prize ($2,500) as a social app to help world travelers immerse themselves in local, rural cultures.
The four additional finalists were AuxNation (Zack Jones '18, Noam Kahn '18, Themba Shongwe '18 and Dhruv Singh '18), an app to help DJs crowdsource their playlists in real time; Kind Cultures (Graham Gilmore '18), developing honey-based kombucha products; Mélange (Nigel Smith '19 and a partner from Texas A&M), a cross-cultural, race-uniting clothing brand; Z's (Izaak Cohen '20), marketing luxury rolling papers.
The eight finalists were selected through a months-long competition that began with 210 business plans reflecting the work of more than 325 students, and included a semifinal round followed by assignment of mentors to help hone the plans.
The final-round judges heard and challenged the entrepreneurs to get a taste of their businesses—in some cases, literally. The judges were competition founder Kenneth Freirich '90, president of Health Monitor Network; Sara Arnell '82, senior managing director at the Magrino Agency; Thomas Caulfield, senior VP and GM at Global Foundries' Fab 8; Rich Laxer '83, senior VP of GE and chair and CEO of GE Capital; David Luks '96, founding CEO of Honeydrop Beverages; Mireya Manigault '09, co-founder and senior managing partner at Foundation LLC; Rich Wartel '91, founding president of Two Labs Marketing; and Ceci Zak '87, CEO for health care at Omnicom-DAS.
"This year's competition was the best and most competitive since it began seven years ago," says Freirich. "The student entrepreneurs were fantastic and the business plans compelling, and their presentations wowed all of the judges." He adds, "There's nothing more rewarding than watching these amazingly talented and creative students take on the biggest challenges of their lives and succeed. A number of students shared with me that the experience has changed their lives. I was very humbled by that, and I am extremely proud of all the students."

The Freirich contest has been key in helping Skidmore develop a national reputation as a startup incubator. A Forbes ranking of seventh on its 2016 Most Entrepreneurial College List puts Skidmore in the rarefied company of Cooper Union and regional standouts Middlebury and Bennington colleges.