Guggenheim awards Skidmore scholars
April 24, 2017
John Simon Guggenheim Fellowships are awarded to those who have "demonstrated exceptional capacity for productive scholarship or exceptional creative ability in the arts." Awarded through two annual competitions, applicants are pooled by field and examined by experts in that field. After a rigorous selection process, approximately 175 Fellowships are awarded each year. This year, professor Heather Hurst '97 and Laura Somer Harrison '91 were awarded this honor.
Recreating Maya artistry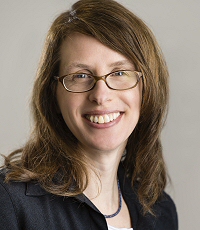 Heather Hurst '97
Her reconstructions of ancient Maya murals, from analyzing pigment chemistry to matching artists' lines and brush strokes, have earned faculty member Heather Hurst a Guggenheim Fellowship. A 1997 Skidmore graduate with a self-determined major in architectural archaeology and a second major in art, she holds a Ph.D. in anthropology from Yale.

As a Guggenheim Fellow, she will expand on her project to illustrate ancient Maya murals from a site in San Bartolo, Guatemala. The San Bartolo murals, many of them reassembled from worn and broken fragments, provide new insights into Maya art, religion and culture. Hurst's illustrations replicate the ancient art precisely but may also include clarifications of damaged and worn areas.

Having worked with murals, sculptures and architecture at several Maya sites, Hurst says the intimate knowledge and precision required to articulate a line in a manner that's true to the original inspired her to explore the creators, to make visible the human lives and social roles of these ancient painters, scribes and sculptors. Hurst's work has appeared in National Geographic, Science, the New York Times, the National Gallery of Art, the Met, and other major venues. In 2004 she won a MacArthur Foundation "genius" grant.

"The Guggenheim is a prestigious academic award," says her colleague Michael Ennis-McMillan, adding, "Skidmore faculty and students have been fortunate that Heather has shared her talents with us."


And...action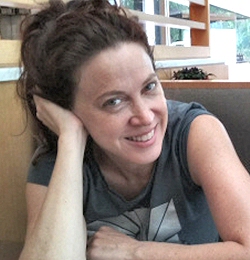 Laura Somer Harrison '91
For Laura Somer Harrison '91, a Guggenheim Fellowship is just the latest honor in her career. An English and French major at Skidmore, she became a busy and successful painter. Then she earned an MFA at Boston's School of the Museum of Fine Arts-along with a fellowship to the venerable MacDowell artists colony-in 2012. Next she received a New Artist's Society Scholarship at the School of the Art Institute of Chicago, where she earned a second MFA in 2016. Recently her Lingerie Show garnered prizes at top film festivals from Florida to Los Angeles to Madrid. Little Red Giant, the Monster That I Was is her latest creation.

Harrison's films focus on marginalized social outcasts and subcultures, exploring issues from diaspora, to gender expression, to losing the sense of touch. They have been screened at festivals in the U.S., Canada, Japan, Australia, Croatia, and elsewhere. Based in Chicago, she has served as a visiting artist at Boston's Museum School and at California Institute of the Arts.