Perspectives on prison
September 21, 2017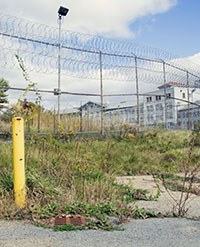 The closed Mt. McGregor prison
(Photo by Dorothea Trufelman '16)
Justice and rehabilitation, inequity and immobility are being explored in formats from film to poetry to workshop in connection with States of Incarceration, on view through Oct. 11 at Skidmore's Tang Museum. Part of a national storytelling project, the exhibition was developed by a history class and includes these upcoming events, all free and open to the public:
Thursday, September 28, 7 p.m., "Stories that Speak to Us." Mass Story Lab founder Piper Anderson and documentarian Sylvia Ryerson discuss storytelling as an instrument of justice, moderated by Jordana Dym, a Skidmore history professor who directs the Moore Documentary Studies Collaborative.
Saturday, September 30, 9 a.m., Mass Story Lab's "What is Prison For?" Storytellers who have been affected by mass incarceration will speak and then work alongside audience members to brainstorm strategies for improving the criminal justice system.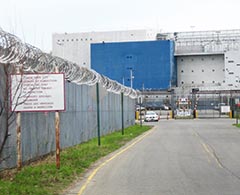 Rikers Island jail
2 p.m., States of IncarcerationGallery Talk. History professor Eric Morser and student curators Deven Catalano, Meaghan McDonald and Isaac Selchaif will discuss their study of the Saratoga-area Mount McGregor prison, the power of oral histories, and the creation of the museum exhibit.
3 p.m., Rikers: An American JailScreening and Q&A. More than 7,500 people, most of them still awaiting a verdict, are held in Rikers on a typical day. The Bill Moyers-produced Rikers: An American Jail will be shown, followed by a discussion with former Rikers cellmates Johnny Perez and Damian Stapleton.
Thursday, October 5, 7 p.m., Poetry Lab. Alumna Cara Benson '04, who taught poetry for eight years at Mount McGregor prison, joins former McGregor students Sean Dalpiaz and Johnny Perez. Benson is now program manager of the Millay artists' colony.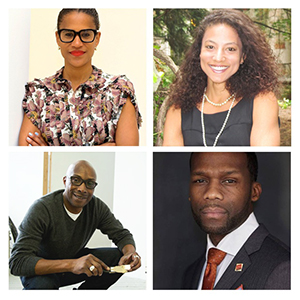 "Accelerator" discussants Brielmaier, Hinton,
Jackson and Perez
Friday, October 6, 6:30 p.m., Accelerator Series: "Mass Incarceration and the Prison Industrial Complex." The Tang Museum's curator-at-large, Isolde Brielmaier, moderates a discussion with Harvard historian Elizabeth Hinton, artist Duron Jackson and activist Johnny Perez about mass incarceration, mobility and immobility, and the prison industry.
States of Incarceration is the first national traveling exhibition and coordinated public dialogue to explore the history and future of mass incarceration in the U.S. It was organized by the New School's Humanities Action Lab with some 500 university students and formerly incarcerated individuals from 20 cities.