Options and opportunities
October 3, 2017
"Options are like toys: the one with the most wins." Psychology major Drew Fidler '08 still recalls social-work professor Peter McCarthy saying that in class one day. "I had been raised to be aware of the world around me and grateful for what I had, but I don't know that I had ever thought of it in that way: that options are resources, and they are finite." For her, that meant "when you have them, you have a responsibility to help create them for others." After earning a master's in social work from New York University, Fidler joined the Baltimore Child Abuse Center as a forensic interviewer-a job she says is "more than getting a child's story to ensure a successful investigation. It's about helping the child and the community to find their voice and get their options back."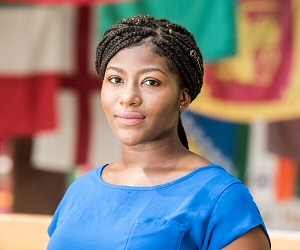 Ivy Asamoah '19
For Ivy Asamoah '19, an international affairs major who spent her summer with the International Rescue Committee in the New York City area, "To know I will never experience the hardships some of my clients faced was eye-opening." As she worked with landlords and refugees to secure "safe, affordable and humane housing" for the newcomers and their families, she says, "I realized how privileged I am." And, just as with Fidler, that awareness "fueled my passion to work for a nonprofit, to bridge the global gap, increase understanding and attend to those in need."

Fidler and Asamoah make a powerful pair, and it was Skidmore philanthropy that brought them together. Active in social causes and educational access, Fidler and parents Josh and Genine have endowed a scholarship for a Skidmore opportunity-program student, and last year they established an endowed fund to widen access to out-of-classroom opportunities that help students integrate their studies with their career goals. (Such integration is a key item in Skidmore's strategic plan, and broadening its availability was a promise made by President Philip Glotzbach at a White House education summit in 2014.) Through Skidmore's Summer Educational Experiences Beyond Campus, along with other funded internships and training, students who might otherwise need to take a summer job can afford to engage in academically relevant and resume-building experiences. The Fidlers' endowed fund provides a SEE-Beyond stipend each year expressly for a first-generation college student in the field of social and human services.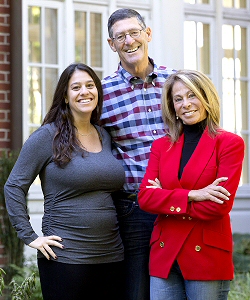 Drew Fidler '08, left, Josh Fidler, and Genine Fidler
Josh Fidler says, "A degree is simply not sufficient background for today's job market, and work experience is as important in the social service and creative professions as in business or science-which are more likely to offer summer work or paid internships. By cultivating mentors and honing their workstyles, interns can go on to contribute meaningfully to a job very early in their careers." Through their gift, the Fidlers hope "that more undergraduates will be able to experience the real world during college." Their first SEE-Beyond stipend went to Asamoah, who used it for some of her living costs and for her extensive transportation in apartment-hunting for clients.

And what did she learn from her summer? She enjoyed speaking some French with Haitian clients and watching them "combine their new lives in America with their Haitian culture." She even met a client from her father's home area near the Ghana and Ivory Coast border. In general, she reflects, "The hardest thing for me to come to terms with was that not everyone is welcoming. When clients are still traumatized by their many hardships and already struggling with their new reality of starting afresh in America, it's hard to see them having to deal with negative rhetoric. All I could do was assure them that there are people who care about them." She developed her patience and empathy, as well as a better understanding of her own opportunities and her growing ability to "lend a helping hand. I am a humanitarian at heart, and I hope to turn that into a career."

Drew Fidler, whose career has advanced to expert consulting on child-abuse policies and best practices, has some realizations too. "My Skidmore education opened numerous doors and opportunities," she says. In return, "I give because every person deserves options. I give because every person should be able to dream, explore interests, and pursue a fulfilling and enlightening career." By connecting first-generation college students with the professional social-services world, she says, her family's SEE-Beyond gift is all about "building networks of people who are giving of their time and their talent to help pay it forward."