Beatlemore ends an era
November 20, 2017
This year's three Beatlemore Skidmania shows, with a focus on songs from the fab four's 1967 Sergeant Pepper and Magical Mystery albums, presented 15 student numbers-—from "Fixing a Hole" by the Bandersnatchers to "She's Leaving Home" by Bugs in the Tall Grass. As always, a rousing faculty-led farewell got the crowds on their feet with "All You Need is Love." But this time, that faculty finale was particularly poignant: After 17 years of guiding Beatlemore, music professor Gordon Thompson will be retiring. Fellow music faculty member Joel Brown, who has overseen two Beatlemores when Thompson was away, has vowed to continue the hugely popular tradition.
Joel Brown
It all began in 2001, when Thompson taught a Beatles seminar with comparative biographies of the band and analyses of the music, capped by a student-requested, classmembers-only do-it-yourself concert of Beatles covers. According to this year's event coordinator Will Scott '18, that feel-good concert "was seen as a way to bring the school together when things were rather bleak after 9/11." After that the concerts continued even when the seminar wasn't offered; when Beatlemore audiences began overflowing Filene Recital Hall, the Zankel Music Center was newly opened, and its 600-seat Ladd Concert Hall still sells out for three shows. So many Saratoga-area residents flock to the event that one show is reserved just for student and campus audiences.

Soon Thompson's freshman seminar on performers and their audiences had the idea of selling T-shirts for Beatlemore. The students' research into copyrights and marketing design expanded into a collaboration with art professor Deb Hall's design course, whose students enter their designs for each year's Beatlemore poster and T-shirt (this year's pick was by Finley Martin '19). Revenues from those sales go to the Skidmore Cares donation drive for Saratoga community agencies and also to Skidmore financial-aid funding. Indeed, the event is so complex that it now takes a group of students, in a 3-credit independent study, to manage it each year. Scott says he and study-group mates Killian Grider '18, Johanna Lu '19 and Lionel Kiki '19 "started meetings for this year's concert back in March of last year" before packing their fall semester with recruiting and auditions, charting the program and coordinating the merchandise.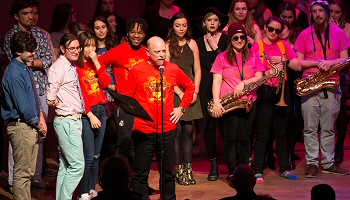 Gordon Thompson
In recent years the event has also been livestreamed for alumni and other audiences—a feature that Thompson hopes will ramp up for future Beatlemores. "We could provide a video host or MC especially for the online show—it has so much potential," he says.

Scott says, "Three shows continuing to sell out year after year is astonishing," but he can identify several big selling points: "For me at least, a student-run charity concert like this ticks off a lot of boxes, bringing the community together around a shared cause, and around a shared love for artists who stood for a lot of positive ideals and still appeal to a wide audience."

Thompson points out that "parents and grandparents continue to play the Beatles for their kids; this music keeps coming back generation after generation. Also, the band came at a point in history when they helped define the very medium of popular music. It was a confluence of demographics, technology, social ferment—before the Beatles, popular music was disposable; with the Beatles, it became art, with a longer and deeper impact on society."

Over 17 years of Beatlemore Skidmania, Thompson says, "There have been some really imaginative arrangements, and some phenomenal performances that literally left me crying." Scott the senior says, "I want to work in the music industry and also make an impact on my community, so it's been a blessing to work with this program."