Lessons in museumship
December 5, 2017
"An ethnographic study of Saratoga's Beekman Street Arts District, interviewing gallery owners, businesspeople and artists," is how anthropology major Geoffrey Greene '18 describes his senior research project. Earlier at Skidmore, he served as a Tang Museum gallery monitor and helped with its children's education programs including the "super-fun" Family Saturday art workshops. With that academic and work background, he was a natural to become the inaugural holder of the Tang's new Meg Reitman Jacobs '63 Internship.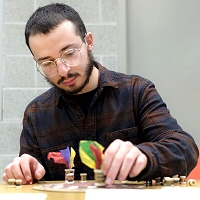 Geoffrey Greene '18 creates a Family
Saturday board game inspired by the
Tang installation
Get to the Other Side
.
Among his tasks in the intensive, yearlong experience is helping to write, edit, and choose images for a handout for the upcoming exhibition This Place, a four-college show of recent photography exploring Israel and the West Bank. Greene says his anthropology major-and no doubt his study abroad in Hanoi and Saigon-helped fuel and shape his interest in "how to handle photos with people in them, and the controversial and sensitive aspects of the conflict presented in the show." During its run, he's sure to be involved in planning the Tang's related events and discussions. Even after graduation, he'll be developing and implementing public programs at the museum, as the Jacobs Internship continues through the summer.

A math major with an interest in art during her own Skidmore days, Meg Jacobs says, "If I were a student now, the first place I'd want to spend my time would be at the Tang, and if I had the credentials, I sure would want an internship." That's why her husband, Howard, surprised her for her 75th birthday by endowing the student internship in her name. She says, "I was thrilled. It's such a pleasure to help someone else have that privilege" of a professional experience as an undergrad.

She says, "Working at the Tang, an intern has the opportunity to be an integral part of interactions between executive staff, faculty, curators and artists, learning about everything from budgets to show selection. It's an extraordinary way for any student to learn the inner workings of a museum." And the Tang's Dayton Director Ian Berry and his staff, she adds, always "structure the student program so that these young people get the most out of their internships."
Meg Reitman Jacobs '63 and husband Howard
Jacobs is a longtime alumna volunteer, and she and Howard earlier endowed a scholarship fund. (Her Skidmore roots are expansive, with cousins graduating in the Skidmore classes of 1948, '50 and '63, sister Kit in '72, daughter Kristy in '91 and a niece in '93.) The Jacobs Internship was unveiled during last fall's meeting of the national Tang Advisory Council, on which she serves.

While Greene expects his internship duties to embrace work in the Tang's college and public programming division next semester, his resume is long and wide enough for any assignment: while a student at his science high school, he engaged in two New York City museum internships. "The one at Brooklyn Museum (not far from home) was an apprenticelike program, where I gave tours to kids in the summer. I loved that learning and teaching," he says. "The other was at the Museum of Arts and Design, a contemporary museum kind of similar to the Tang."

Jacobs too has been involved in art and design throughout her life. After Skidmore, working as a computer programmer for New Jersey Bell and then raising her family, she took local art courses including at the New York School of Interior Design. She worked in corporate design, earned a master's in interior design from Pratt Institute and was a professional in that field ever after.

She recalls that when Skidmore's Tang was being planned, "it was such an exciting time, knowing that Skidmore would finally have its own museum" as an interdisciplinary campus crossroads and a complement to the art department's Schick Art Gallery. Jacobs says, "The Tang has exceeded all expectations. It exhibits really interesting shows and involves students from many and varied classes."

Variety is a spice of Greene's life too. Also active in music, he says, "I love contemporary art, because it can lead to and incorporate any topic in any field!" He hopes to use the Jacobs Internship "to leave a legacy at the Tang that will help its programs and visitors even after I've graduated."