Breaking records one brick at a time
May 19, 2018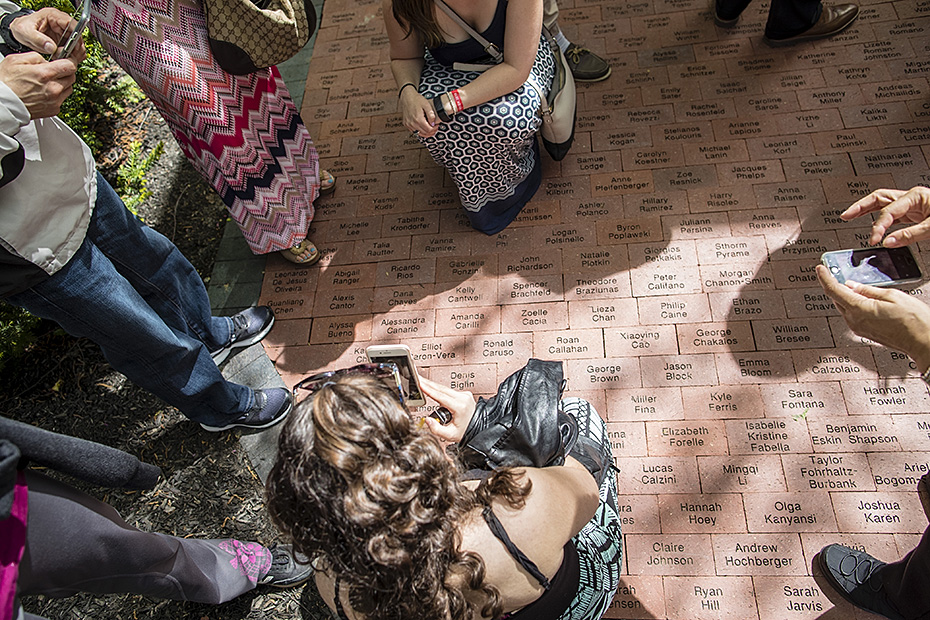 Parents and family members of Skidmore's Class of 2018 have set a new record by raising more than $1.3 million in gifts and pledges for the Class of 2018 Parents Fund, nearly doubling the previous year's gift total of $745,000. A record total of 489 families contributed to raise the highest amount ever recorded in the 17-year history of the fundraising effort.
The annual fundraising project brings together parents, grandparents and extended family members to honor and celebrate their graduating senior. Families who make a donation of any amount can have the name of their graduating senior inscribed on a brick on the patio adjacent to Case Center. The brick pathway serves as a permanent tribute to students' successes and helps to inspire others to follow in their footsteps, while commemorating the students' Skidmore experience.
This year's fund was chaired by Skidmore Trustee Kalyan ("Kal") Das and Dr. Pia Das, parents of Sabrina '18. The gift total announcement was made by Kal Das at the annual Brick Dedication Ceremony on Case Green Friday afternoon to an eruption of cheers and applause.
"We dedicate these bricks and this walkway as a permanent expression of love and recognition to our children and in appreciation of Skidmore and its impact on their lives," Das said. "The bricks symbolize the pathway that our sons and daughters have paved for themselves here at Skidmore. They are an enduring reminder of the Class of 2018."
"The Brick Ceremony is always a very special moment when we establish an enduring memory on campus for each and every graduate," said Skidmore President Philip A. Glotzbach. "These bricks are also a symbol of their continuing connections with Skidmore College that will last a lifetime."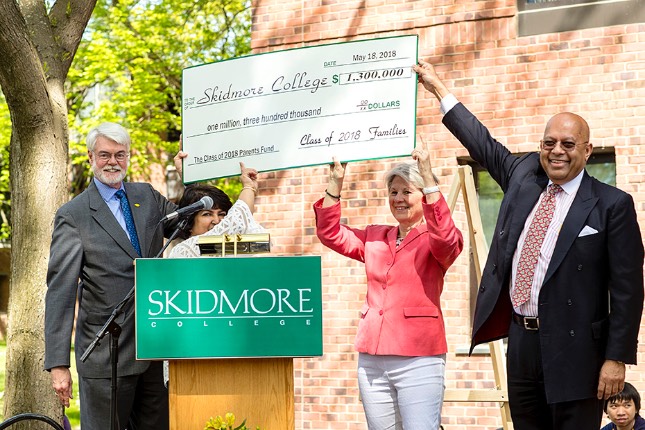 "Our 2018 leadership committee was focused on inclusion. We are very pleased that we were able to inscribe a brick on this walkway for each student in the graduating class, so everyone in the Class of 2018 felt included and represented," Das said.
"Parents are eager to generously give to Skidmore because they see all that Skidmore has to offer its students, they see the future of the campus through projects like the Center for Integrated Sciences, and they see the strength of the leadership of the college," Das said.
For Skidmore parents, alumni and Class of 2018 Parents Fund committee members John and Kathy Melligon (both Class of '81), the opportunity to give back to Skidmore and contribute reinforces their connection with the larger Skidmore community.
"John and I have chosen to support Skidmore College over the years for many reasons. It gave us both a solid academic basis to pursue our varied life's endeavors," said Kathy Melligon. "We feel that Skidmore greatly values the input and experiences of its alumni, students and parents. We've enjoyed attending lacrosse games, reunions and parent meetings, and as parents of a graduating senior, we always feel welcomed and are happy to be back on campus."
John Melligon added, "We're thrilled at the generous level of giving to the 2018 senior parents fund, both in dollar amounts and in participation. It demonstrates a high level of satisfaction that the parents have with the school and the education and experiences that their children have had there. We've especially enjoyed seeing the seniors actively participate in the process, reinforcing the importance of 'giving back.' They can be proud of their accomplishments."
The Class of 2018 Parents Fund has had a significant impact at Skidmore since its inception in 2001, when Skidmore parent volunteers launched the project. It was designed to recognize and celebrate the achievements of their sons or daughters, to provide financial support for students and the campus environment and to serve as a model for students by reinforcing the importance of philanthropy.
A portion of the funds raised through the Class of 2018 Parents Fund will be dedicated to the construction of the Center for Integrated Sciences and to fund student scholarships and other campus initiatives.
The engaged and dedicated leadership committee consisted of parents including Charlie and Grosvie Cooley (Henry), Michael Faber and Joan Shifrin (Nora), Larry and Jacque Goldman (Alexandra), Marshall and Naomi Jaffe (Henry), Bill and Tracy Maag (Ian), John Melligon '81 and Kathy Melligon '81 (Christopher), Tom and Dee Moritz (Sophia), Jim and Kerry Plutte (Courtney), Kevin Quinn and Jane Zoidis Quinn '86 (Dylan), Ken and Shirley Rendell (Julia), Lisa and Stuart Sternberg (Natalie), and Andrew and Barbara Wales (Rebecca).